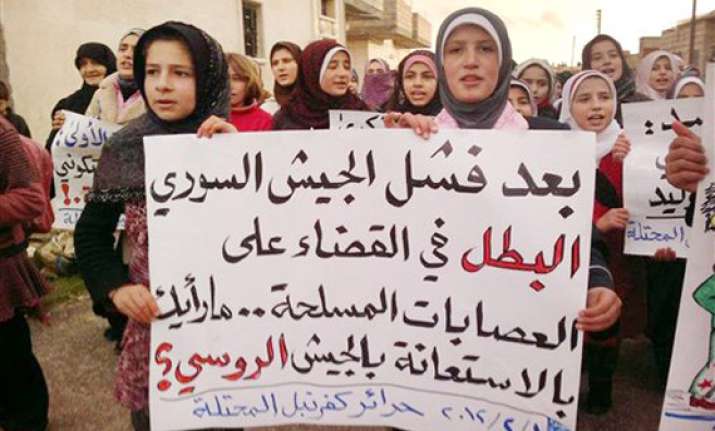 Damascus, Feb 3 : Syria's opposition called protests on Thursday  to mark the 30th anniversary of the Hama massacre, as the United Nations moved closer to agreement on action to halt a deadly regime crackdown on dissent. 

Demonstrations were organised in various cities in memory of the estimated 10,000 to 40,000 people who perished in February 1982 when then president Hafez al-Assad, father of the current president Bashar, launched a fierce assault on the central town to crush an Islamist revolt.  The anniversary took place as the regime in Damascus battles to crush an unprecedented revolt that has left more than 6,000 people dead since mid-March, according to estimates of human rights groups.

The city of Hama defiantly painted roads in red and staged a general strike today, the Syrian Observatory for Human Rights said.

"Several roads have been painted red and the waterwheels marked 'Hafez is dead while Hama has not disappeared'," it said, in reference to the famous landmark of the city on the Orontes river.

In the town of Al-Maadamiyeh, near Damascus, a Syrian dissident was killed by security forces before his body was thrown off the rooftop of his home in front of his wife and children, the Observatory said.

Explosions rocked the town of Talfita, a focal point of security operations also near the capital and home to the military prison of Saidnaya, while the army kept up its lockdown on Rankus, a hideout of army deserters it said.  Videos posted on YouTube showed student protests held in the capital and on the outskirts of the capital to mark the Hama carnage.

International efforts to stop the bloodshed have so far failed, with Russia, a key all of Syria, firmly opposed to an Arab- and Western-backed UN Security Council resolution condemning the violence.

But diplomats hinted in New York yesterday that a compromise to overcome Russia's objections was possible.