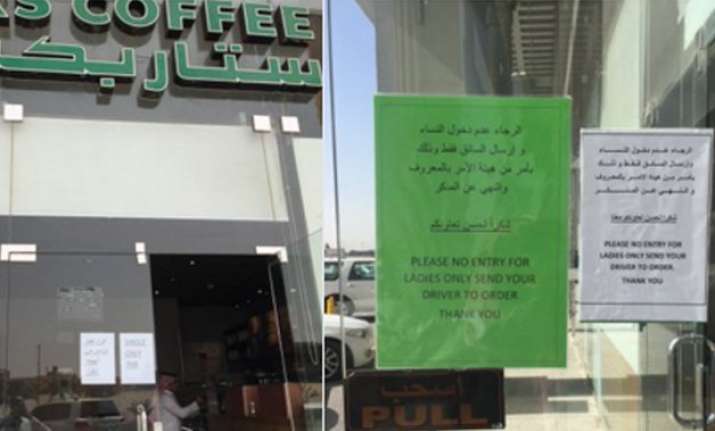 New Delhi: A Starbucks shop in Saudi Arabia's capital Riyadh has banned women from entering the shop, all thanks to the gender-wall which collapsed last week.
The shop also pasted a sign board on the window stating, "Please no entry for ladies. Only send your driver to order. Thank you."
The move invited sharp criticism forcing the company to issue a statement that the decision was temporarily and soon women will be allowed to visit the shop.
The company said: "At Starbucks, we adhere to the local customs of Saudi Arabia by providing separate entrances for families as well as single people. In addition, all our stores provide equal amenities, service, menu, and seating to men, women and families."
"Starbucks welcomes all customers, including women and families, to enjoy the Starbucks experience. We have worked with local authorities to obtain approval to refurbish one of our stores in Jarir, which was originally built without a gender wall. That meant it could only accommodate men in accordance with local law."
According to Saudi laws, authorities at the shops, parks, offices have to provide separate entrance gates for men and women.
The law also bans females of all ages from working, traveling or studying without permission from male guardians.
Starbucks has now 78 stores in Saudi Arabia and all stores cater to both families and singles, except for one that is exclusively reserved for women and families.