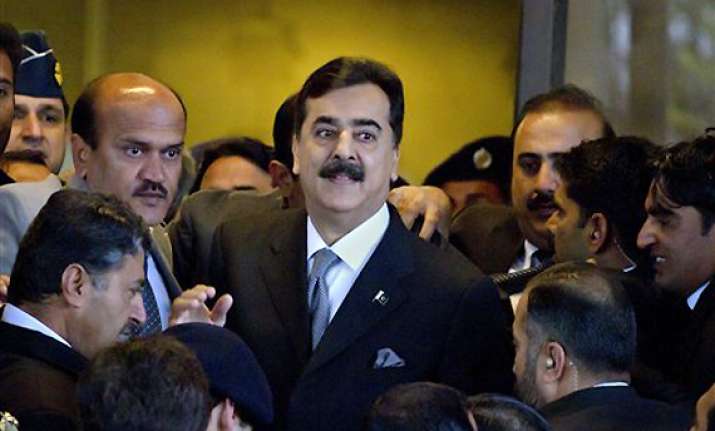 Islamabad, Feb 14: Pakistan's Cabinet today reposed "full confidence" in Premier Yousuf Raza Gilani following his indictment for contempt by the Supreme Court, even as he said he did not want to be a "burden" in any way for government.

The Cabinet "unanimously applauded the conduct" of Gilani in the Supreme Court and "reposed full confidence in his leadership" during a meeting chaired by the Prime Minister.

Gilani thanked the Cabinet and said he was Prime Minister "due to the support of members of Parliament, his Cabinet colleagues and of the coalition partners of the ruling Pakistan People's Party," according to a statement issued by his office.

"I am the Prime Minister because of you and the Parliament elected me. I want to assure you that whenever you feel there is a burden in any way, then you have elected me... and I follow your decision," Gilani said in remarks beamed by state-run PTV.

The Supreme Court yesterday charged Gilani with contempt for defying its orders to reopen corruption cases against President Asif Ali Zardari in Switzerland. Gilani pleaded not guilty and said he would contest the charges.

The formal trial is expected to begin on February 28 following the presentation of evidence by the prosecution and defence.

If the Premier is convicted, he could be jailed for six months and disqualified from office.

During the Cabinet meeting, Gilani said that there would be no clash of state institutions if they remained within their respective domains.

"We respect all institutions and every institution should remain with the trichotomy of powers. If everyone works in their own domain, then I believe there can be no better way for democracy to function," he said.

"It would be better if every institution restricts itself to its own space. Then there would be no clash of any sort... We don't want a clash with any institution. We want to carry everybody with us...," he said.

President Zardari and his slain wife, former premier Benazir Bhutto, were accused of laundering millions of dollars through Swiss banks in in the 1990s.

Zardari spent 11 years in prison though none of the charges against him were proved.

The apex court has been pressuring the government to reopen the cases in Switzerland since December 2009, when it struck down a graft amnesty issued by former military ruler Pervez Musharraf.

The government has refused, saying the cases against Zardari are politically motivated and that the President has complete immunity under Pakistani and international laws.