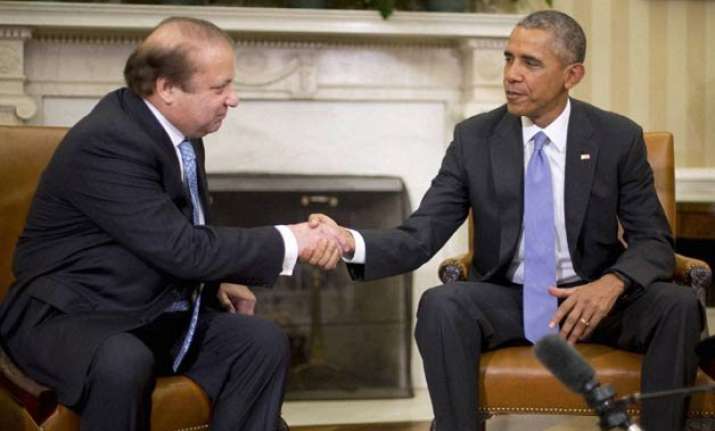 Washington: US President Barack Obama today held talks with visiting Pakistani Prime Minister Nawaz Sharif during which the two leaders are expected to touch upon thorny issues like support for terror groups and nuclear safety.  
The meeting held at the Oval Office of the White House is their second bilateral meeting after the last round of talks in 2013.
"The visit will highlight the enduring nature of the US-Pakistan relationship and provide an opportunity to strengthen our cooperation on issues of mutual interest, including economic growth, trade and investment, clean energy, global health, climate change, nuclear security, counter-terrorism and regional stability," the White House said in a statement.  
It added that the President "looks forward to discussions with Prime Minister Sharif on ways we can advance our shared interest in a stable, secure, and prosperous Pakistan" during the Pakistani premier's key four-day visit to the US at Obama's invitation.
Ahead of the meeting, Pakistani officials said that Sharif would raise the Kashmir issue with Obama.  
"During the Prime Minister's visit, we will talk about the tension with India on the Line of Control," Foreign Secretary Aizaz Ahmad Chaudhry said on Monday.  
"It is the responsibility of the US and the international community to help resolve the problem of Kashmir, which was the main issue with India," he added.
India has rejected any third party intervention to the Kashmir issue and has maintained that all outstanding matters in Indo-Pak ties should be resolved bilaterally.  
Sharif, on his part, sought "third party intervention" in the Kashmir issue, telling American senators here that the US was the "most relevant" party to get involved in the matter.  
Pakistan has already submitted three dossiers on India's alleged role in "subversive activities" in the country ahead of the high-level interaction.
Sharif in his meeting with US Secretary of State John Kerry yesterday also briefed him about the "destabilising role of Indian agencies in FATA, Balochistan and Karachi".  
The US has been pressing Pakistan to severe ties with terror groups like the Lashkar-e-Taiba (LeT), the Taliban and the Haqqani network but Pakistan said there was "no-question" of taking any more steps as it has sufficiently acted against terrorism.
"We have done enough (in the fight against terrorism). Do not talk of doing more," Chaudhry said, adding that it is time for the rest of the world to "do more" in this regard.  
There have also been concerns raised over the safety of Pakistan's existing nuclear arsenal as well as the pace at which such weapons are being produced.
According to a New York Times report published today, the US is planning to sell eight new F-16 fighter jets to Pakistan though it is unclear if the Congress will agree to the deal amid concerns among lawmakers whether the advanced aircraft would be used against India than for counterterrorism.