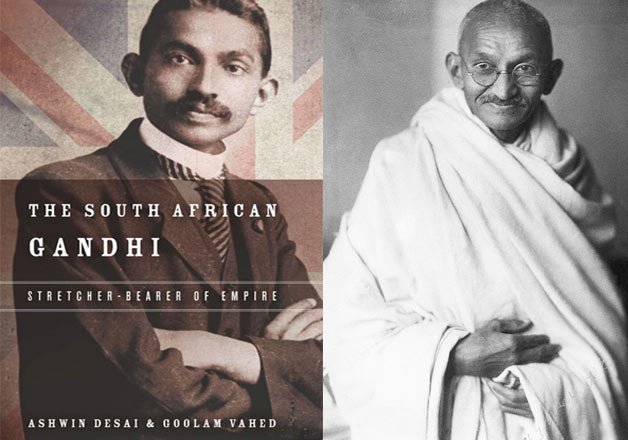 New Delhi: Mahatma Gandhi, who fought against apartheid and white supremacy in South Africa, was racist and thought that Indians were better than Africans, asserts a book by two Africans of Indian origin Ashwin Desai and Goolam Vahed.
Ttiled, The South African Gandhi: Stretcher-Bearer of Empire, is bound to stir controversies post its release. Well known writer Arundhati Roy has said that the book questions the way we have been taught about the Father of the Nation.
The book traces the life of Mahatma in the years 1893 to 1914, which he primarily spent in Africa. Another serious allegation on Gandhiji by the writers is that he was a stooge of the Britishers. Desai is a professor at Johannesburg University while Vahed is a history professor at University of KwaZulu Natal.
The duo claims that they have written such stuffs based on some hand written documentation. The book states that Gandhiji called Africans illiterate and infidels and he urged the Britishers to not view the Indians and Africans in the same manner.
According to the book, Gandhiji had favoured the Indians over Africans in front of the Britishers. He asked the British govt of South Africa to allow Indians to carry weapons. Not only this, during the First World War he wanted Indians to hold positions in the royal army.
The book also carries comments on Nobel Peace Prize winner Nelson Mandela who was referred to as African Gandhi. The book says, "Madela was probably unaware that the one he thought was fighting against the whites actually liked the Britishers."
Here are some excerpts of the book that were published in the Washington Post:
1. One of the first battles Gandhi fought after coming to South Africa was over the separate entrances for whites and blacks at the Durban post office. Gandhi objected that Indians were "classed with the natives of South Africa," who he called the kaffirs, and demanded a separate entrance for Indians.
2. "We felt the indignity too much and … petitioned the authorities to do away with the invidious distinction, and they have now provided three separate entrances for natives, Asiatics and Europeans."
 
3. In a petition in 1895, Gandhi also expressed concern that a lower legal standing for Indians would result in degenerating "so much so that from their civilised habits, they would be degraded to the habits of the aboriginal Natives, and a generation hence, between the progeny of the Indians and the Natives, there will be very little difference in habits, and customs and thought."
 
4. In an open letter to the Natal Parliament in 1893, Gandhi wrote: "I venture to point out that both the English and the Indians spring from a common stock, called the Indo-Aryan. … A general belief seems to prevail in the Colony that the Indians are little better, if at all, than savages or the Natives of Africa. Even the children are taught to believe in that manner, with the result that the Indian is being dragged down to the position of a raw Kaffir."
 
5. At a speech in Mumbai in 1896, Gandhi said that the Europeans in Natal wished "to degrade us to the level of the raw kaffir whose occupation is hunting, and whose sole ambition is to collect a certain number of cattle to buy a wife with, and then, pass his life in indolence and nakedness."
 
6. Protesting the decision of Johannesburg municipal authorities to allow Africans to live alongside Indians, Gandhi wrote in 1904 that the council "must withdraw the Kaffirs from the Location. About this mixing of the Kaffirs with the Indians, I must confess I feel most strongly. I think it is very unfair to the Indian population and it is an undue tax on even the proverbial patience of my countrymen."
 
7. In response to the White League's agitation against Indian immigration and the proposed importation of Chinese labour, Gandhi wrote in 1903: "We believe also that the white race in South Africa should be the predominating race."
 
8. Gandhi wrote in 1908 about his prison experience: "We were marched off to a prison intended for Kaffirs. There, our garments were stamped with the letter "N", which meant that we were being classed with the Natives. We were all prepared for hardships, but not quite for this experience. We could understand not being classed with the whites, but to be placed on the same level with the Natives seemed too much to put up with."
 
9. In 1939, Gandhi justified his counsel to the Indian community in South Africa against forming a non-European front: "I have no doubt about the soundness of my advice. However much one may sympathise with the Bantus, Indians cannot make common cause with them."