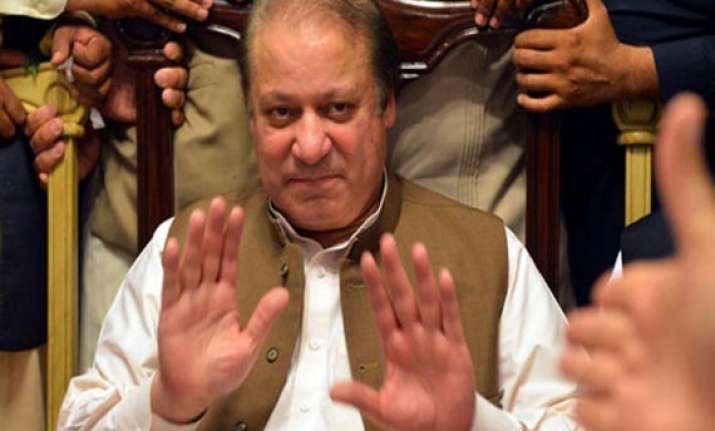 Islamabad, June 7: The 25-member Council of Ministers of Pakistan's new Prime Minister Nawaz Sharif was sworn in at a ceremony here on Friday.
Among those who took oath were 16 federal ministers, including Ishaq Dar, who is tipped to become the Finance Minister, and nine ministers of state.
They were administered the oath of office by President Asif Ali Zardari, two days after Mr Sharif was sworn in after being formally elected the Prime Minister by the National Assembly or lower house of parliament.
A majority of the new ministers are from Sharif's PML-N party, which swept the May 11 general elections.
One member each from the PML-F and National People's Party was included in the cabinet.
The NPP has already announced its merger with the PML-N.
Most of the new ministers are from Punjab, the traditional stronghold of the PML-N.
There were 19 ministers from the country's largest province, three from Sindh, two from Balochistan and one from Khyber-Pakhtunkhwa.
Only two women — Anusha Rehman and Saira Afzal Tarar — were included as ministers of state.
Besides Dar, the other federal ministers are Chaudhry Nisar Ali Khan, Khwaja Asif, Ahsan Iqbal, Zahid Hamid, Shahid Khaqan Abbasi, Lt Gen (retd) Abdul Qadir Baloch, Pervaiz Rashid, Rana Tanvir Hussain, Khwaja Saad Rafique, Sikander Bosan, Chaudhry Muhammad Barjis Tahir, Ghulam Murtaza Jatoi, Pir Sadruddin Shah Rashidi, Sardar Mohammad Yousuf and Kamran Michael.
The ministers of state are Mian Waliur Rehman, Usman Ibrahim, Sheikh Aftab Ahmed, Khurram Dastagir Khan, Anusha Rehman, Saira Afzal Tarar, Pir Aminul Hasnat, Jam Mir Kamal and Abdul Hakim Baloch.
The portfolios of the ministers were not officially announced though sources said Mr Dar, whose son is married to Mr Sharif's daughter, would be the Finance Minister.