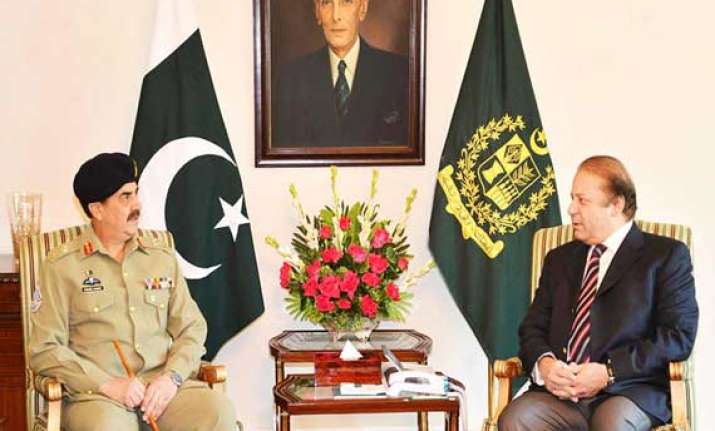 Islamabad: Pakistan Prime Minister Nawaz Sharif today met Army Chief Gen Raheel Sharif to discuss the current political crisis caused due to anti-government protests here and the recent Indo-Pak border "skirmishes".  
"Overall security environment including the prevailing situation was discussed in the meeting. There was a consensus on the need to resolve the ongoing issue expeditiously in the best national interest," a statement issued by the Prime Minister's Office said.
The meeting between the Prime Minister and the Chief of Army Staff (COAS) came in the wake of protests by thousands of supporters of Imran Khan and cleric Tahir-ul-Qadri, demanding the Prime Minister's resignation.
The government did not give further details about the meeting but the army has already asked the two sides to end the crisis through negotiations.
The issue of recent border "skirmishes" was also a subject of discussion in the meeting, Dawn News reported.  There have been 95 ceasefire violations by Pakistan along the Line of Control and it has also breached the ceasefire pact 25 times on the International Border.  
Sharif's meeting with the Army Chief came on a day when the DGMOs (Director General Military Operations) of India and Pakistan held talks to discuss "all relevant issues".
 The meeting between Sharif and the Army Chief was held after declarations by Khan and Qadri, making it clear that they will not call off their protests until the Prime Minister resigns.
The protesters allege that last year's general election was rigged and therefore are calling for a re-election. Qadri has called for an overhaul of the entire system.  Supporters of Khan-led Pakistan Tehreek-i-Insaf (PTI) and Qadri's Pakistan Awami Tehreek (PAT) are camped outside the Parliament since last week.
Khan is insisting that Sharif should step down for at least 30 days to let an independent probe into the alleged rigging in polls won by the Prime Minister's ruling PML-N.