Follow us on London: Prime Minister Narendra Modi on Friday said India's immense diversity is its specialty, pride and strength. 
Addressing a massive gathering of the British-Indian Community at the Wembley Stadium in London, in the presence of UK Prime Minister David Cameron, the Prime Minister spoke of the great contributions of the Sikh community and of India's Sufi tradition. 
He recalled his meeting with the Sikh community in London and said he shared their pain, understood their problems and was working to resolve them. 
Expounding his vision of India, in his speech which lasted more than one hour, the Prime Minister recalled Imran Khan of Alwar, Rajasthan, who has made about 50 education apps and distributed them free. 
He also recalled a Sarpanch in Haryana, who had responded to his Beti Bachao, Beti Padhao call, with a "Selfie with Daughter" campaign, which eventually became a global success. 
The Prime Minister said that he was sure of India's bright future because his vision of India, was the India of Imran Khan who created and gave education apps for free; and of the Sarpanch who had conceived Selfie with India. He said there are countless such people in India. 
The Prime Minister said all major religions of the world are present in India, and in big numbers too. He said the Indian diaspora carries these values with it wherever they go, and hence they are great ambassadors for India. 
The Prime Minister spoke of his Government's initiatives so far, and of his plans especially on Swachh Bharat and Clean Energy, to transform the lives of India's citizens. He said India would lead a global "Solar Alliance" of countries blessed with abundant solar radiation, to pursue the goal of economical solar energy generation. 
India is much bigger and far greater than what you see on TV screens and newspaper headlines, the Prime Minister said. 
Highlights of PM Modi's speech:
* Let us all participate in India's journey towards development: PM 
* Aapke passport ka rang jo bhi ho, mera aur aapka naata humare khoon ke rang se juda hua hai: PM
* Jab tak suraj chand rahega, jab tak samay ki gati chalegi, Bharat aur UK ka naata aur gehera hoga: PM
* Whoever has a watch, please take it out. What time is it? Quarter to 7? Such is the bond between India & UK that all you need to do is turn your watch upside down, you'll know the time there: PM
* From 15th December, a London-Ahmedabad direct flight will start plying: PM Modi
* There is now an e-portal to help you with all your issues with Visa, PIO & OCI: PM Modi
* There is one Imran Khan in Alwar who made 50 apps to help students' education. My India resides in people like him: PM Modi
* I have two goals: clean India and 24 hours electricity for India: PM Modi
* Never think that India is what you see on TV screens. India is much better than that: PM Modi
* Whole of India has embraced  #SelfieWithDaughter campaign: PM Modi
* Be it Skill India or Digital India, we are working towards it all: PM Modi
* India is the world's fastest growing economy: PM Modi
*  We want India to be power sufficient: PM Modi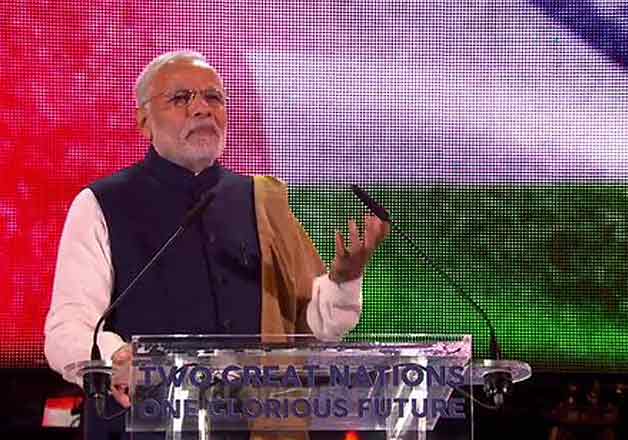 * FDI into India has increased by 40 per cent. Shows the increasing international confidence in India: PM Modi
* We want to balance the two FDIs- Foreign Direct Investment and First Develop India: PM Modi
* When we think of rupee bond, we think of James Bond. Take it further we think of Brooke Bond: PM Modi
* But if my Bharat Mata is clean and swacch, won't we all be proud and happy?: PM Modi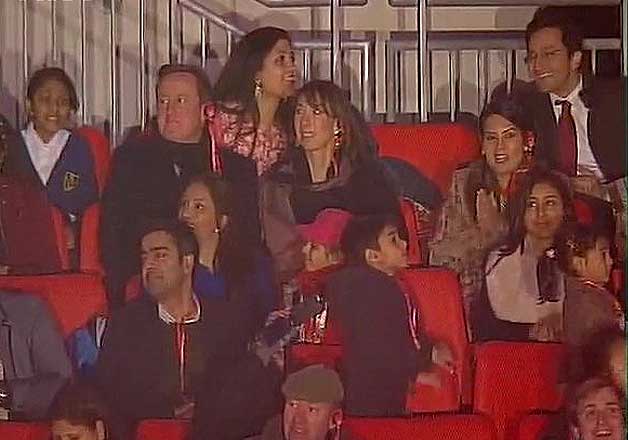 UK PM David Cameron & his wife Samantha Cameron listen to PM Modi speak at London's Wembley Stadium
* When I stood at the Red Fort and talked about cleanliness, people raised their eyebrows: PM Modi
* Speed & direction of progress in India is such that fruits of development will be seen very soon: PM Modi
* If even after so many years of independence there are villages with no electricity, should I not work to change that?: PM Modi
* India can show the World the path to fight both terrorism and global warming. We are already on that path and we will stick to it: PM Modi
* Responsibility to fight terrorism and global warming is every human's and every nation's: PM Modi
* Now India is seen as power center: PM Modi
* We will make sure that our nation is shoulder to shoulder with the World: PM Modi
* Whole world  looks at us with expectations: PM Modi
* You all are true ambassadors of India in UK. Wherever we go we show people how to live in harmony, how to care for everyone around: PM Modi
* The Sufi tradition is the best antidote to terrorism : PM Modi
* Works of Kabir and Rahim etched in our history: PM Modi
* Diversity is India's pride, it is our speciality and our strength: PM Modi
* People are surprised to see such a diverse nation as ours live in harmony: PM Modi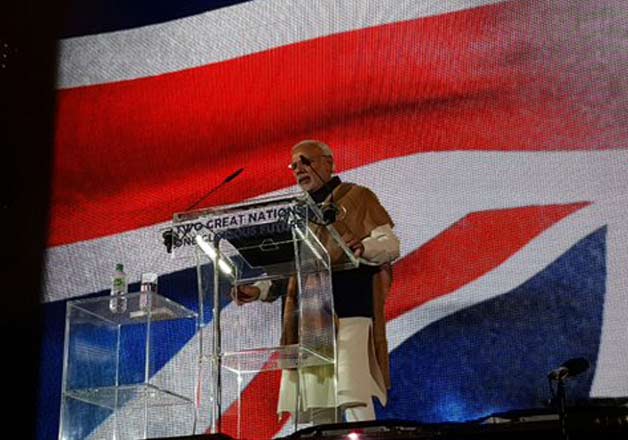 * Yesterday Shyamji Krishna Varma was posthumously reinstated by London's Honourable Society for Inner Temple: PM Modi
* Show me one Indian who isnt proud when they see Mahatma Gandhi's statue outside the British Parliament: PM Modi
* Whenever I meet PM Cameron, I find that he is very proud of the Indian community here in UK: PM Modi
* No reason for India to stay poor: PM Modi
* When I came here 12 years ago I was a CM, today I am among you with a new responsibility: PM Modi
* I was told London will be cold, but your warm welcome makes me feel at home: PM Modi
* We are celebrating our special bond at this very special venue: PM Modi
* This is a historic day, a big thank you for being here. What a great partnership!: PM Modi
* PM Modi said "acche din aane wale hain", I say "acche din zaroor aaiyega", says UK PM Cameron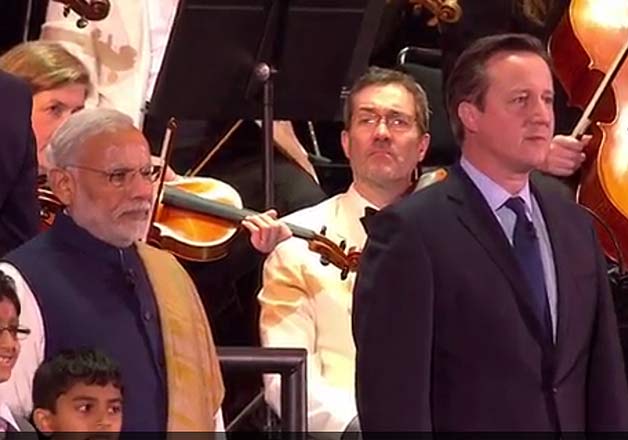 * They said a "chaiwala" will never govern world's biggest democracy, but here he is: UK PM Cameron
* We know what needs to happen, India with a permanent seat with the UNSC: UK PM Cameron
* Won't be long before there is a British Indian Prime Minister in Downing Street: UK PM Cameron
* Kemcho Wembley! : UK PM Cameron
* 180 school children perform the national anthems of India & Britain.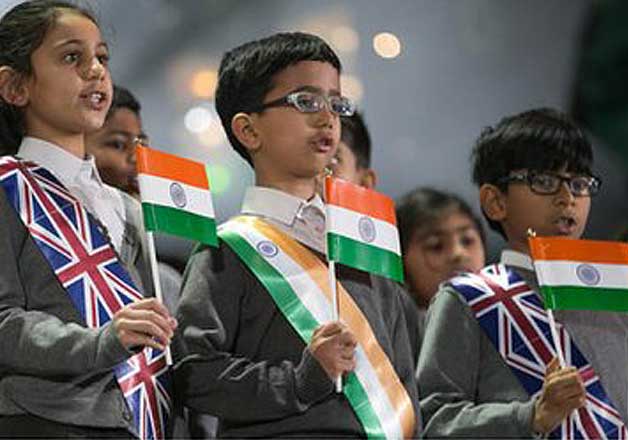 * PM Narendra Modi at London's Wembley Stadium, to address the stadium shortly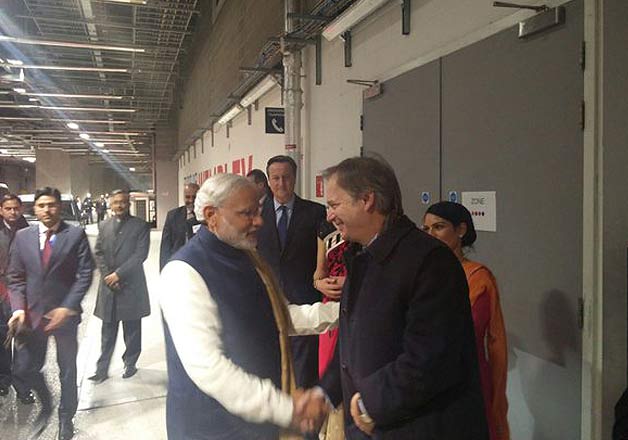 * PM Narendra Modi at London's Wembley Stadium, meets the organisers
* Rendition of "Vande Mataram" at London's Wembley Stadium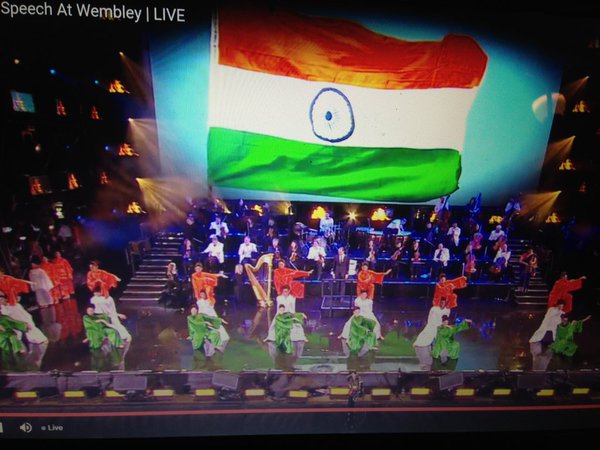 * PM Narendra Modi reaches London's Wembley Stadium, to address the stadium shortly
* Jay Sean performs at London's Wembley Stadium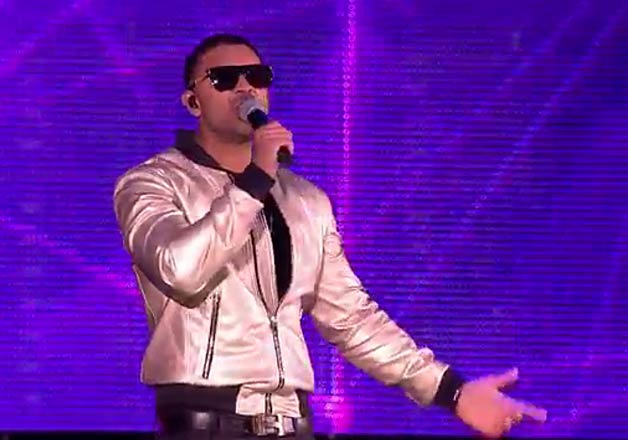 * Medley of Punjabi dhol, Maharashtrian dhol tasha and pipe band rocks London's Wembley Stadium
* Alisha Chinai performs "Made in India" at London's Wembley Stadium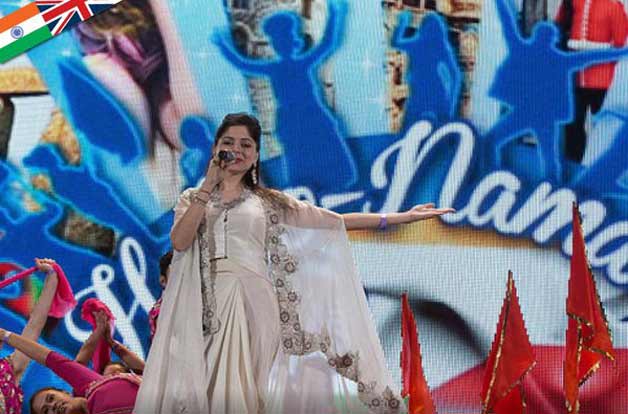 * Wembley crowd mesmerized by Bollywood superstar Kanika Kapoor
* Wembley Stadium gears up to welcome PM Modi who will address the Indian diaspora tonight.
*  PM Narendra Modi reaches Buckingham Palace to attend lunch to be hosted by Queen Elizabeth II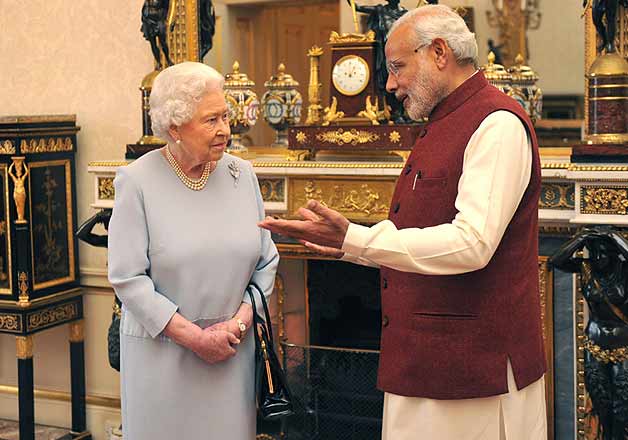 * PM Narendra Modi meets Queen Elizabeth ll at Buckingham Palace
* India-UK are economically made for each other, this relationship has to be driven by private sector CEO's: PM Modi
* Defence manufacturing is backbone of Make in India: PM Modi at India-UK CEOs forum: PM Modi
* We want to develop our Railway stations in PPP: PM Modi
* People from UK and India are easily compatible with each other, this in itself is a big advantage: PM Modi
* Both have political will to take our economic relationship forward: British PM Cameron
* PM Modi and British Premier David Cameron address Indo- UK CEO forum
Here is the schedule of PM Modi's second day in UK:
Friday, 13 November, 2015
13:00-15:00 Meeting with David Cameron at Chequers
15:45 Arrival in London
15:50 Arrival at Lancaster House
16:00-17:00 CEOs Round-table (Lancaster House)
18:15 Arrival at Buckingham Palace
18:15-19:45 Lunch hosted by Queen Elizabeth II
21:45 Arrival at Wembley Stadium
22:15-23:30 Community Address
00:00 Reception hosted by High Commissioner, (Bobby Moore Hall, Wembley Stadium)