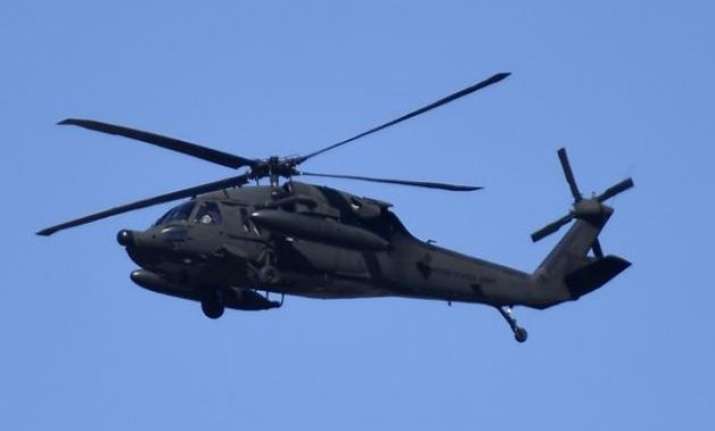 Kathmandu: Three charred bodies and wreckage of a US Marine chopper that went missing while delivering aid in quake-hit Nepal were today recovered in a remote hilly area as death toll from the fresh quake reached 117 and five fresh tremors kept people on edge in the battered nation.
The missing US Marine Corps UH-1 Huey carrying two Nepalese Army personnel and six Marines onboard has been spotted in the remote mountainous area of Ghorthali area of Sindhupalchok District, 100 kms east of Kathmandu, according to Nepal Army.
The chopper disappeared on Tuesday when the second powerful temblor struck and was spotted by a Nepalese army helicopter.
After receiving the information from the ground troops, the Nepalese Army spotted the crashed chopper northeast of Kalinchok which lies at an altitude of 11,200 feet.
"The wreckage of the helicopter was found in pieces and there are no chances of any survivors," Nepal's Defense Secretary Iswori Poudyal said but did not give any details about the nationalities of the victims.
He added that the remains of the victims were charred.
The exact fate of all the members onboard and the conditions under which the crash took place is not yet known and it will be followed, the Nepal Army said in its statement.
Finance Minister Ram Sharan Mahat tweeted: "Tragic news of crashed chopper at 11200 ft Kalinchok, Dolakha reported by NA. Saddened at the loss brave people at humanitarian work."
Its disappearance had triggered intense search involving US and Nepalese aircraft and even US satellites besides hundreds of American and Nepalese ground troops.
The recovered bodies are being ferried to Kathmandu. Local police officials say hundreds of security personnel including US Marines and locals have reached the crash site, ekantipur.com reported.
The crashed helicopter was among over a dozen US military aircraft undertaking aid operations, including two other Huey choppers and four tilt-rotor Ospreys besides cargo planes.
"The assessment of the site is ongoing and a thorough investigation will be conducted," the US Marine-led joint task force said in a statement after they sent a separate team.
Meanwhile, five tremors today kept people on edge in Nepal, devastated by two powerful earthquakes that struck within weeks.
The death toll from Tuesday's 7.3-magnitude temblor rose to 117. The powerful quake struck the Himalayan nation just when it had begun to rebuild itself following the devastation from the monster temblor less than three weeks ago.
A total of 227 aftershocks were recorded measuring 4 or more magnitude after the devastating April 25 earthquake that killed more than 8,000 people across Nepal.
The latest tremor with 4.5-magnitude occurred with Dolakha epicenter at 3.09 pm while at 10.51 am, a tremor with 4.0-magnitude and Dhading as its epicentre was felt, according to National Seismological Centre.
Earlier, a 5.5-magnitude tremor struck at 7.27 am with epicentre in Dhading district, 80 km west of Kathmandu. Two tremors were felt at 3.38 and 4.07 am measuring 4.1 and 4.3 on the Richter scale, both with Dolakha as epicentre.
More than 215 aftershocks were recorded in different parts of the country after the April 25 earthquake, the country's worst temblor in over eight decades.