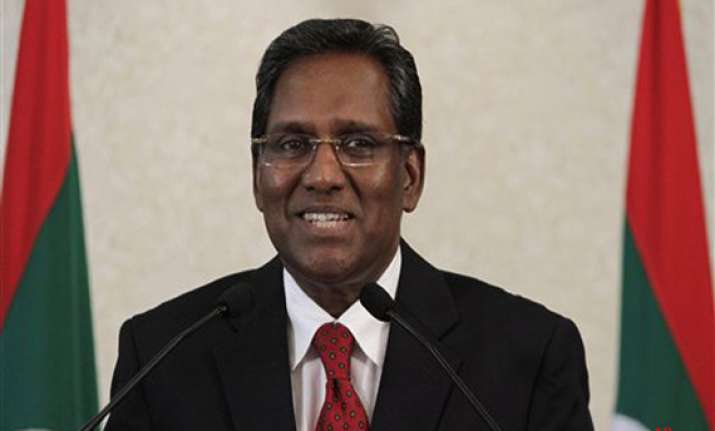 Male, Feb 12 :  A visiting U.S. official said on Saturday that the Maldives wasn't ready for early elections as a way out of its political crisis as the Indian Ocean nation's new president agreed to an independent investigation into his takeover of power.

President Mohammed Waheed Hassan said he had given an assurance to visiting U.S. Assistant Secretary of State Robert Blake that he was willing to submit to a probe by an independent body as questions had arisen about the transfer of power.

Former leader Mohamed Nasheed resigned on Tuesday after police joined months of street protests against his rule and soldiers defected. He was replaced by Hassan, his vice president.

Mr. Nasheed later said he was ousted in a coup, and there is an arrest warrant against him. The new government denies the coup claims and insists Mr. Nasheed stepped down voluntarily. It has made no move to arrest Mr. Nasheed.

Mr. Hassan says he intends to form a coalition to help restore stability ahead of presidential elections due next year. He said Saturday there wasn't a need for "a snap election," saying that "the country is deeply divided and the political landscape has many potholes."

Mr. Blake endorsed Mr. Hassan's position not to hold early elections and urged Mr. Nasheed's Maldivian Democratic Party to join the proposed coalition.

"Members of the civil society told me that the country is not ready for early elections now because the police, election commission and judiciary are not sufficiently prepared to ensure free and fair elections," Mr. Blake said, urging the formation of a broad coalition to enable those institutions to be reformed.

"We hope the MDP will now work productively with the other parties. Everyone has to compromise," Mr. Blake told journalists.However, Mr. Nasheed wants early elections, insisting his party would emerge victorious.

"Only an early election will stabilize the country," Mr. Nasheed, who also met with Mr. Blake, told journalists. He said he told Mr. Blake that he was not willing to work with the current government.

Shortly after his meeting with the U.S. official, Mr. Hassan told journalists that he wanted an independent investigation into the circumstances that led to his predecessor's removal.

He insisted that no one had questioned the legality of his assuming office. However, "there are some questions as to what preceded my assumption of office. This is why we are saying we are completely open to an independent investigation," Mr. Hassan said.

Mr. Hassan urged political leaders to eschew violence, alleging Mr. Nasheed's supporters had torched police stations and a court house in the southernmost atoll, Addu, on Wednesday.The region was now calm, Mr. Hassan said.

The United States initially recognized the new Maldives government on Friday. It later backtracked, saying the situation was unclear and called for an investigation into the transfer of power.

Mr. Nasheed, a former human rights activist, came to power after elections in 2008 ended 30 years of autocratic rule by Maumoon Abdul Gayoom. Mr. Nasheed has said his ouster was engineered by rogue elements of the police and supporters of the country's former autocratic leader. Others have blamed Islamic extremists.

Over the past year, the Maldives witnessed demands for more religiously conservative policies and widespread protests over soaring prices. Last month, Mr. Nasheed's government arrested the nation's top criminal court judge for freeing a government critic and refused to release him as protests grew.

The capital, Male, remained peaceful on Saturday. There were no signs of extra security on the streets and people went about their normal lives.

Tourism is the main industry in the Maldives, a chain of nearly 1,200 islands off southern India blessed with sandy beaches and coral. Most resorts are located near the beaches and remained mostly untouched by the protests in Male and Addu.