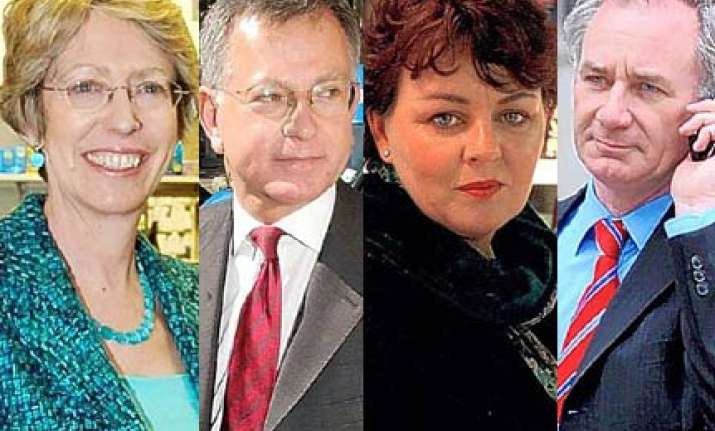 The ruling Labour Party in Great Britain has been plunged into a cash-for-access row after three former Cabinet Ministers were secretly filmed discussing how they could help a fake lobbying company – with one boasting that he was a 'cab for hire' for £5,000 a day, reports The Sunday Mail.
In the most damaging revelations, ex-Transport Minister Stephen Byers claimed that he managed to save 'hundreds of millions of pounds' for one company by using his influence with his successor Lord Adonis over a rail franchise.
Byers also claimed that he had boosted the business interests of Tesco by phoning Peter Mandelson, and said that he could bring Tony Blair to meet clients of the lobbying company which was, in fact, a front for an undercover operation. Other shocking revelations from the sting include:
Former Health Secretary Patricia Hewitt claiming that for £3,000 a day she could help clients to influence legislation, boasting that 'if you've got a client who needs a particular regulation removed, then we can often package that up [for a Minister]'.
Former Defence Secretary Geoff Hoon promising to lead a delegation of clients to meet Ministers, and saying that he wanted to turn his knowledge and contacts into 'something that frankly makes money'. He  quoted £3,000 a day.
Another Labour MP, Margaret Moran, boasting she could ring a 'girls' gang' of colleagues, including Jacqui Smith, Hazel Blears, Caroline Flint and Harriet Harman, on behalf of clients.
In total, 20 politicians, including peers, were approached by the fake lobbying company, Anderson Perry Associates – in reality a front operation registered to the house of a Channel 4 producer.
Of these, 15 agreed to meet and ten were invited in for interviews, including Baroness Sally Morgan, a former adviser to Tony Blair in No10. The results will be shown in the Dispatches programme, due to be broadcast tomorrow.
Downing Street aides were particularly nervous about comments Ms Moran is believed to have made suggesting that she was able to influence immigration policy on behalf of clients –  although The Mail on Sunday understands that this section has been cut from the final edit. 
However, Mr Byers is seen boasting on camera that he persuaded Lord Adonis to alter the terms of a rail franchise on behalf of National Express, a move worth hundreds of millions of pounds to the company.
He says: 'So between you and I, I then spoke to Andrew Adonis, the Transport Secretary, and said, "Andrew, look, they've got a huge problem. Is there a way out of this?" And then we, we sort of worked together – basically, the way he was comfortable doing it and you have to keep this very confidential yourself.'
He also claims that he stepped in after Lucy Neville-Rolfe, the corporate and legal affairs chief at Tesco, rang him to say she was concerned about  new food labelling rules being proposed by the Government.
Byers said: 'So you ring [Business Secretary] Peter Mandelson and say, "Peter, did you know what [Environment Secretary] Hilary Benn's about to do?
'He's going to introduce a regulation which is going to have this huge nightmare in every supermarket."' As a result, Byers claims, 'Peter got it delayed and then got it amended.'
He also drags former Prime Minister Mr Blair into the scandal, saying: 'I see Tony Blair every month and you'll probably find a lot of your clients really quite like him. If there's an event... we could have a word with Tony, say come along for a drink.'
Labour immediately launched a damage-limitation exercise, with party sources stressing that the MPs, who are all leaving the Commons at the next election, were 'mortified by how stupid they have been'.
Although the Anderson Perry Associates website described it as 'a bespoke consultancy', The Mail on Sunday last week revealed how its London offices were hired by the hour and its US phone number was bought from a 'call-forwarding' service, which diverted enquiries back to Britain. MPs were met by a young female 'lobbyist', calling herself Claire Webster, who talked to them about what they could do for the firm's clients.The Government will find it particularly galling that the Conservatives were not fooled by the operation.
Tory MP Julie Kirkbride agreed to visit the company's offices, but withdrew after becoming suspicious that the lobbyist did not seem genuine. She alerted the Conservative whips, who warned MPs not to accept any invitations by the company.
The only Tory MP who is thought to feature in the programme is Bournemouth MP Sir John Butterfill, who is standing down at the election, although another Tory MP is said to have sent a 'slightly embarrassing' email.
Friends of Mr Byers say he regretted boasting to the fake lobbyist.  After a day's reflection following his interview, they said he had grown suspicious he had been part of a set-up and emailed Anderson Perry to say he had had second thoughts. He claimed that he had effectively lied throughout his meeting.
In a statement released yesterday afternoon, Mr Byers said: 'I attended an informal meeting to discuss a potential job opportunity. During the course of a casual conversation I made some exaggerated claims. 'Having reflected on my comments, I knew that I should immediately put the record straight. 'I did so the following morning by making it clear that I have never lobbied Ministers on behalf of commercial interests.
'I later withdrew my name from consideration. I have always fully disclosed my outside interests. The set-up was a massive deception, which the Tory Party described last weekend as entrapment.'
Backbencher Ms Moran was embroiled in last year's  expenses scandal when it was revealed that she had claimed £22,500 from the taxpayer to treat dry rot in a house in Southampton – 100 miles from her Luton South constituency. As a result it was announced that she will stand down at the next election, and a formal party investigation into her conduct is ongoing.
A Labour source said last night: 'Those MPs who are involved in this are mortified by how stupid they have been. There is no suggestion that they have broken the rules in any way, and they would rebut any such suggestion.  'Some of them had second thoughts after leaving the interviews, and contacted the company to say that they would not be working for them.'If any wrongdoing is proved to have occurred, then we will not hesitate to take firm action.'
A second source added: 'Moran has been very unwell with stress, and so should not be given any credibility. If you were to draw up a list of MPs able to influence power on a company's behalf, she would be right at the bottom.'
A spokesman for Lord Adonis did not deny that Byers had spoken to the Minister, but said: 'There is no truth whatsoever in the suggestion that Byers came to any arrangement with Andrew Adonis on any matter relating to National Express.'
A Tesco spokesman said:'We did not speak to Mr Byers on food labelling, regulation or indeed any other issue.  These claims are completely fictitious and Mr Byers has acknowledged this to us.'Lord Mandelson also said he had 'no recollection' of talking to Byers about the issue.