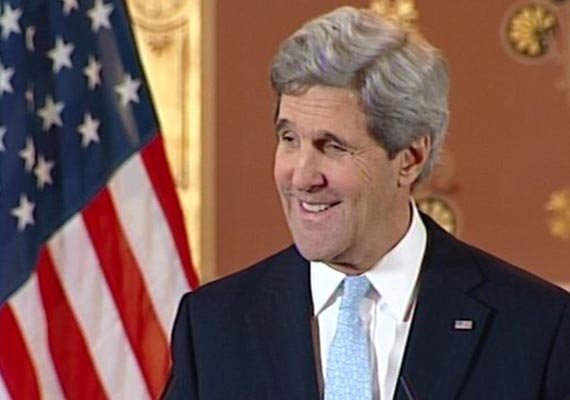 Washington: Amidst chanting of Vedic mantras and lighting of the traditional 'diya' by none other than US Secretary of State John Kerry, Diwali - the festival of lights - was celebrated for the first time at the State Department.  
"As the days grow shorter, the Diwali reminds us that spring always returns - that knowledge triumphs over ignorance, hope outlasts despair, and light replaces darkness.  
Diwali is a time for the revitalization of mind and spirit," said Kerry who was joined by Indian Ambassador S Jaishankar.  
"It affords a chance to reflect on how we can bring light to others. It is an opportunity for us all, regardless of our own traditions, to renew a shared commitment to human dignity, compassion, and service - and it is a commitment, I think, at the heart of all great faiths," he said.
Some 300 guests, including a large number of eminent Indian-Americans and envoys from other South Asian countries, were present to celebrate Diwali for the first time at the State Department's historic Benjamin Franklin room, which was lit with many small diyas and candles.  
The top Indian-American US officials including Assistant Secretary of State for South and Central Asia Nisha Desai Biswal and USAID Administrator Raj Shah were also present.  
"We worked hard to prove that we were, in fact, natural partners, which I believe we are. We are two optimistic nations who believe that history doesn't shape us, but that we have the power to shape history.
And that spirit of hope and optimism is really at the center of the Diwali celebration," Kerry said and greeted people with Saal Mubarak.  The guests were served with the traditional Indian dishes - including sweet dishes like Jalebi, Gulab Jamun, different varieties of burfi, kaju katli and kheer.  
Some of the dishes were in fact were made inside the State Department kitchen, while other dishes were procured from a popular Indian restaurant in Washington DC.  
It was also one of the rarest occasions that no alcohol was served. It was all soft drinks, juices and not to miss the traditional mango 'lassi'.
Diwali was the only major world festival, which was missing from the State Department's celebration of festivals.  
"I want to thank all of you for joining us at the State Department's first ever Diwali celebration. I guarantee you it will not be our last," Kerry said amidst applause.  
President Barack Obama yesterday greeted Happy Diwali to all those who were celebrating the festival of lights.  In 2009, Obama became the first US president to celebrate the Diwali.