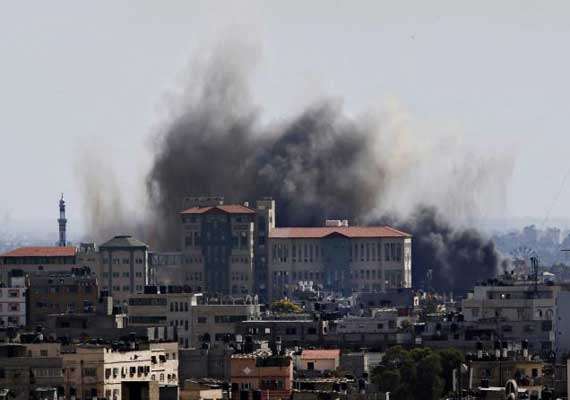 Jerusalem/Gaza: Israel today resumed air strikes on Gaza and warned to respond more forcefully after an Egyptian-brokered ceasefire failed to stop the escalating violence that has killed 195 Palestinians in eight days of fighting as Hamas continued to fire rockets at the Jewish state.
"Hamas has fired 47 rockets since we suspended our strikes in Gaza (this morning). As a result, we have resumed our operation against Hamas," an Israeli military statement said on Twitter.
"After Hamas and Islamic Jihad refused the Egyptian proposal for a ceasefire and fired dozens of rockets at Israel, the prime minister and defence minister have ordered the IDF to act forcefully against the terror targets in Gaza," an Israeli official said speaking as Israeli strikes resumed.
"The prime minister and the defence minister have ordered the Israeli armed forces to take powerful action against terrorist targets in Gaza," he said.
There were no immediate reports of deaths or injuries.
The Egyptian-proposed ceasefire plan was aimed at halting Israel's deadly nine-day offensive on the Gaza Strip that has killed 195 Palestinians.
One Israeli was also killed in rocket fire from Gaza, the first Israeli death in cross-border violence.
But the Palestinian militant group rejected the ceasefire proposal calling it a "surrender".
Despite Hamas' rejection of the ceasefire plan, which came into effect at 9 AM local time, there were several hours of a lull in violence since morning.
Prime Minister Benjamin Netanyahu said in an evening address aired live on television that Israel has "no choice" but to respond more forcefully. Netanyahu said "Hamas chose to continue fighting and will pay the price for that decision."
Israel's security cabinet and the coalition partners in Netanyahu's government, however, were divided on the decision to accept the ceasefire proposal with vociferous opposition raised by some key leaders.
The proposed Egyptian ceasefire plan had called for a stop to Israel's aerial and naval attacks on Gaza, specifically refraining from any ground incursion into the Strip.
Hamas was expected to rein in the Palestinian factions and work to put an end to all types of attacks on Israel, including by rockets, sea or even underground tunnels.
UN chief Ban Ki-moon called on Hamas to accept the Egyptian-initiated ceasefire.