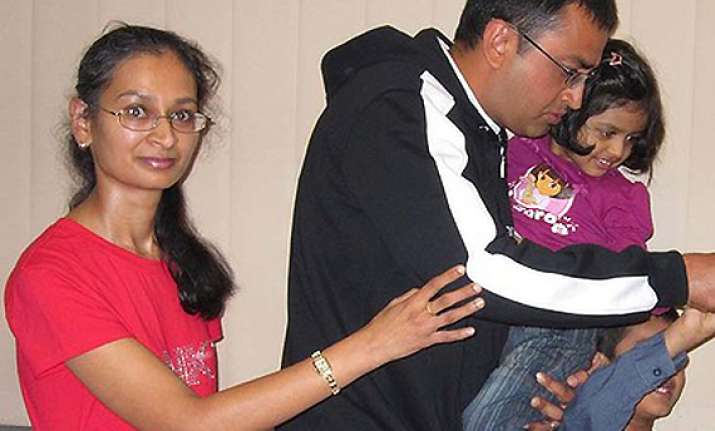 Melbourne, May 1:
A Fiji-Indian family of four, including two children, was found dead here today and Australian police are treating it as a murder-suicide case.
The bodies of Nilesh Sharma, 34, his wife Pritika, 32, five-year-old Divesh and three-year-old Divya were found dead at their Glen Waverley home in the city's eastern outskirts.
Nilesh, an accountant, was found in a hallway, the others in their bedrooms.
The Fijian-Indian family, which moved to Australia over a decade ago, had lived in Glen Waverley for at least two years
and appeared to have been a normal, happy couple, Australian news agency AAP reported.
Police say the four deaths are being treated as a murder-suicide with officers stressing that no suspects are being sought.
"Everybody is devastated," said Abhay Singh, an uncle of the two deceased children.
Everyone had attended a family get-together on Saturday, he said, drinking, laughing, and socialising well into the night. "They were a really lovely family, very reserved," Mr Singh said.
"It is shattering," he said.
The children hadn't been seen at school for two days before worries for their wellbeing turned into a phone call to the police to check up on them.
Singh recalled how the family was recovering well from a car crash last year.
Singh said the couple did not have marriage problems and he believed they died from a leaking gas tank.  "It's a mystery," he said.
Post-mortem examinations will be undertaken tomorrow to confirm causes of death. Abhay Singh said he visited the family regularly and they never seemed to have any problems.
"They were a really lovely family, very reserved. He was an accountant, she was also well qualified. It is shattering. I don't know how anyone can recover from that. Singh said he attended a birthday party with the family quite recently and all seemed well.
He said the father and mother of the children, aged in their 30s, had come to Australia from Fiji about 15 years ago and had lived in the Marcia Court home for about three years.
The family survived a car crash in the Dandeonong Ranges late last year, when a motorcyclist pulled them from their burning car, The Age, Melbourne reports.
Homicide detective senior sergeant Dave Snare said police arrived at the scene about 11am today after receiving a call from someone concerned about the welfare of the family.
He said at this stage police were not looking for any suspects.
A Victoria Police spokeswoman said police arrived to find four bodies inside the home. She could not give any information about the bodies, including their ages or whether they were members of the same family.
There is a strong police presence at the tree-lined court which has well-tended gardens and brick veneer homes. "The homicide squad has been notified and are attending with the Monash criminal investigation unit," the spokeswoman said.
"The circumstances of the death are under investigation and are yet to be established." The tiny court has now been sealed off. A silver sedan is parked in the driveway of the home where the bodies were discovered. There was also a red hatch outside.
A neighbour whose home backs on to the property where the bodies were found said a woman lived at the brick single-storey home and that she had a young daughter.
The neighbour said it was a quiet street and locals were shaken to hear about the deaths. A police chaplain visited the home this morning.
Chaplain Jim Pilmer said that the dead were Hindus and he was trying to organise appropriate support for relatives. "I will visit the next of kin and provide support to them," the chaplain said.
Michael Sawaya, whose father is a long-time resident in the court, said a Fijian-Indian family had lived there for about three or four years.He believed they were a husband, wife and two children.
"Everybody knew the kids, they were real cute." The homicide squad's detective senior sergeant Dave Snare is expected to reveal details of the deaths at a 3pm media conference.
Neighbours said the family living at the property kept to themselves and never appeared to be in any trouble.