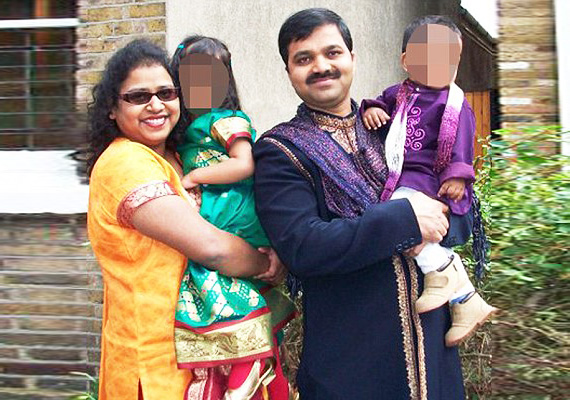 London, Feb 11: Milind Sanade, an Indian national aged 36 years, groped a 21-year-old pregnant woman while working at Harlow Hospital, and was jailed for 12 months. 

He however avoided deportation saying he has the 'right to family life', but Daily Mail reports that his wife and children may have already returned to India.

Sanade was charged for groping a 21-year-old woman while examining for signs of breast cancer.

Following his release from prison, Sanade appealed on grounds of Article 8 of European Convention on Human Rights, after fathering two children in England. He was granted leave to stay because his family life deserved 'respect'.

But on Friday night neighbours at his £165,000 terraced house in Chelmsford, Essex, said his wife, Veni, had returned to India.




One said: 'Sanade is always coming and going and we never really see much of him. I have heard that his wife has left him and taken the kids to India with her.'

Another neighbour suggested his wife might not have left him permanently but could just be on an 'extended holiday'

Sanade conceded that his wife and children were abroad although he insisted they were planning to return next week.

He said: 'They are in India. They are coming back, they will be here next Wednesday.'

In his ruling, Justice Blake, the President of the Upper Immigration tribunal, said that the use of Article 8 to prevent the deportation of an overseas criminal should not be considered exceptional.

He added: 'There is no evidence to suggest that in his present circumstances he poses a real risk to others.'

But MPs said this casts doubt on Home Secretary Theresa May's pledge to stop 400 foreigners a year abusing Article 8 by claiming they have a wife, girlfriend or child in Britain.

They say immigration judges have launched a pre-emptive strike against the plan – threatening a row between Parliament and the judiciary.

Tory MP Dominic Raab said: 'This is a damning indictment of Labour's UK Borders Act 2007, which allows serious criminals to defeat deportation on broad claims to family and social ties.

'But, it adds insult to injury that the president of the Upper Immigration Tribunal is engaged in a political attack on the Government for trying to reform the current shambles.'

Sanade, who was also cautioned for assaulting an 87-year-old man when he worked in a care home, pleaded guilty to sexually assaulting the pregnant patient at a hospital in Harlow, Essex, in February 2010.

In an effort to hide his crime, he made entries in his victim's medical file so that if she complained she would be viewed as emotionally unstable.

At the time of the assault, his wife, who is also a nurse, was heavily pregnant with their second child.

Sanade was jailed for a year, ordered to sign the sex offenders register for ten years, banned from working in care and struck off the nursing register.

Under the UK Borders Act of 2007, foreign criminals jailed for a year or more must be deported unless there are 'exceptional' circumstances whereby the right to family life would be violated.

Sanade, who was released from prison six months into his sentence, came to England in July 2003. He married in Bangalore in 2005 and was granted indefinite leave to remain in Britain in July 2009.