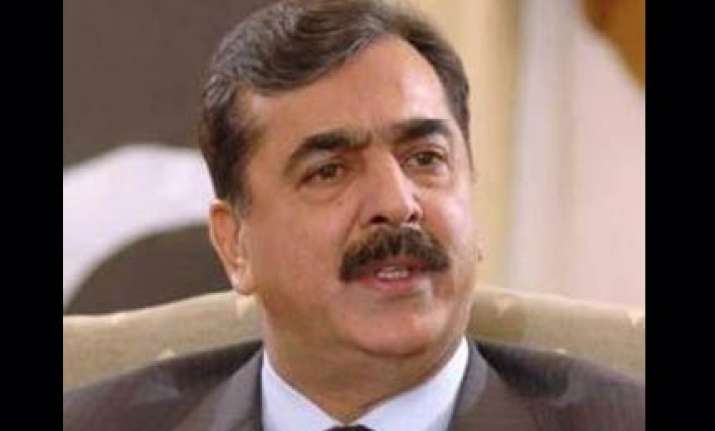 Peshawar, Nov 30: Amid the failure of Pakistan government to bring to justice the killers of former premier Benazir Bhutto, Prime Minister Yousuf Raza Gilani today vowed to expose her assassins at a party function where he was heckled by agitated PPP activists.
Gilani made the promise while addressing a function here to mark the ruling PPP's foundation day after party workers kept interrupting his speech by shouting slogans and demanding the unveiling of the persons responsible for the killing of Benazir.
She was killed in a suicide attack in December 2007.
Pointing towards Interior Minister Rehman Malik, who was sitting on the stage, Gilani said he would direct the minister to bring the killers to justice as soon as possible.
"Benazir Bhutto was a leader of international repute and was widely respected and honoured by world politicians for her political accumen and sagacity. Inshallah, we will bring the culprits responsible for her death to a court of law soon," he said.
The government, he said, is resolved to eliminate terrorism and extremism and will take every possible step to provide security to the people.
He also paid tribute to the armed forces, police, political leadership and people of Khyber-Pakhtunkhwa province for their valour in the war against terrorism.
Gilani said terrorism will be eliminated to attract foreign investment as no one will use his funds in an unsecured environment.
The PPP is a symbol of federation and has the potential to tackle growing challenges, both internal and external, in an effective fashion, he said.
"Lots of conspiracies were hatched against the PPP since its inception but it could not be weakened, while the conspirators met their political end," he added.
"PPP is the name of a mission and movement which is leading the country in the light of the vision and manifesto of its great leaders," Gilani said, paying tribute to Benazir and her father, PPP founder and former President Zulfiqar Ali Bhutto.
Benazir's vision was to see a Pakistan free of terrorism and the government is working in this direction, he said.
"Her political efforts were for a better and prosperous Pakistan and not to become Prime Minister," Gilani said. PTI