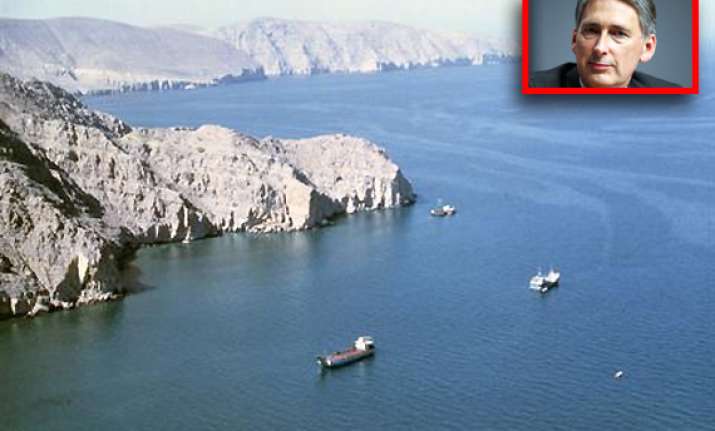 London, Jan 24: Britain today said it could send more military forces including warships to the strait of Hormuz to deter any moves by Iran to block the Persian Gulf oil traffic.

"An escalation of a dispute with Iran could see Britain sending military reinforcements to the Gulf", the British Defence Secretary Philip Hammond said. 

Hammond told reporters here that two British and French warships and the American aircraft carrier USS Abraham Lincoln had entered the Gulf on Sunday to show Tehran that any interference with global shipping would not be tolerated. 

The British announcement came as Iranian leaders in Tehran have threatened to close off the straits, through which passes one-fifth of the world's oil, against EU sanctions on its oil exports.

"The UK has a contingent capability to reinforce its presence in the region should at any time it be considered necessary to do so", the Secretary said. 

Hammad made the remarks at a news conference following the annual round of talks between UK and Australia on security and international issues, BBC reported. 

In a hard hitting measure, the European Union yesterday slapped sanctions to ban all new oil contracts with Iran and freeze the country's central bank assets in the EU.

The EU currently buys about 20 per cent of Iran's oil exports and the British Foreign Secretary William Hague said the sanctions represented "a significant increase and legitimate pressure on Iran to return to negotiations over its nuclear programme."

Australian Foreign Minister Kevin Rudd who was present at the conference said his country would also enforce the EU ban on Iranian crude oil imports.

The British defence secretary disclosed that HMS Argyll, a well armed frigate, had been positioned in the Gulf along with an US and French flotilla.

He also said that Britain had mine-counter measure vessels in the region which were an important part of the overall allied presence.

British defence ministry did not outline on what assets and personnel were deployed in the Persian Gulf, but said that there were 1500 navy personnel deployed east of Suez. Besides the frigate and minesweepers, UK has also one hunter-killer nuclear submarine in the region.

The moves by US, UK and France to bolster fighting assets in the Gulf region came as President Barack Obama backed the EU sanctions, saying they show international unity against "serious threats" posed by Iran's nuclear programme.