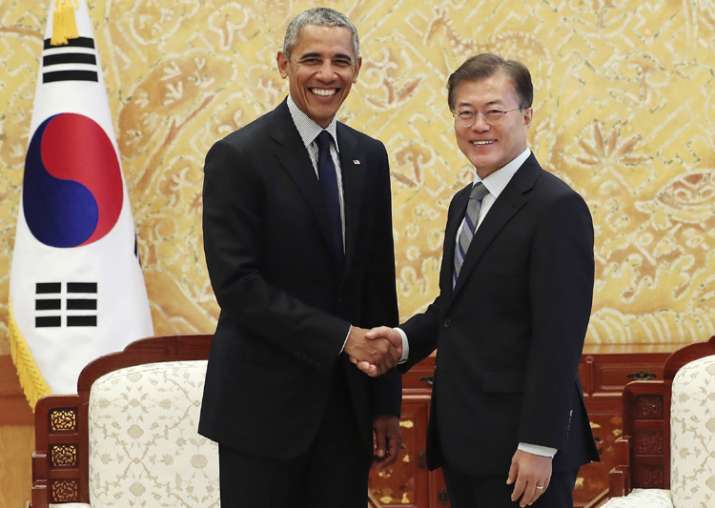 Former US President Barack Obama championed global leaders' commitment to the Paris Agreement despite Washington's withdrawal from the accord.
"The Paris agreement, even with the temporary absence of US leadership, will still be a critical factor in helping our children solve the enormous challenge in civilisation," Obama said on Monday at a Seoul conference organised by South Korea's Chosun Ilbo media group.
President Donald Trump's decision to withdraw from the Paris climate agreement in June was criticised by some as shifting leadership of global efforts to limit climate change to Asia. Trump said last month that he was open to renegotiating aspects of the agreement -- which was inked under his Democratic predecessor and which all nations except two have signed onto.
Obama also met South Korean President Moon Jae-in here on Monday for 40 minutes. The meeting came after Obama spoke at the Asian Leadership Conference and the Fourth Congress of Indonesian Diaspora in Jakarta. There also he had attacked Trump's decision to withdraw from the Paris climate change accord.
Further, Obama highlighted the role China plays in allowing North Korean leader Kim Jong-un's regime to continue. "China is the one country North Korea does depend on to some extent and the elites depend on to access foreign currency, basic supplies that are important to the regime."
Obama also noted that Kim governs a bit differently than his father who preceded him, but is still a threat. "Pyongyang doesn't always listen to China," Obama said, adding "Unlike the father, the son often times has engaged in fairly significant diplomatic insults of Beijing in a way we haven't seen before and in a way that surprised China."
"You have a young man who is only interested in maintaining power and is willing to do anything to sustain that," Obama added.