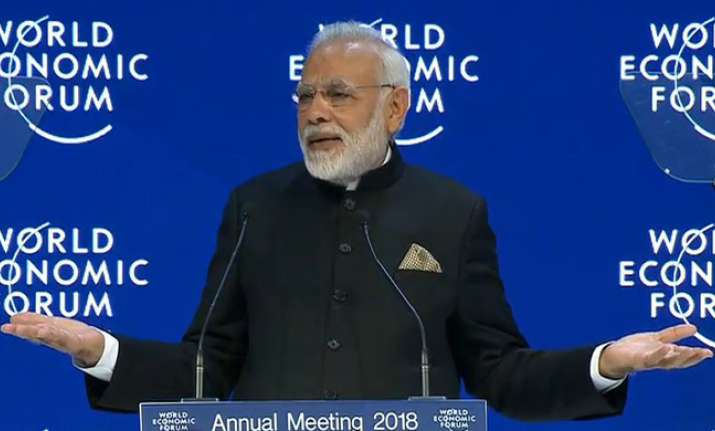 India Inc on Tuesday hailed Prime Minister Narendra Modi's speech at the Plenary Session of the World Economic Forum 2018 in Davos.
PM Modi, who delivered the opening keynote address at the summit, said that 125 crore of India are capable of creating a USD 5 trillion economy by 2025.
During his address, PM Modi told the world leaders and top CEOs to invest in India and assured them that the government and the people of the country will welcome them with open hands and hearts.
Last year, the honour of opening speech was given to Chinese premier Xi Jinping. 
Here are the LIVE Updates on reactions to PM Modi speech at Davos: 
Read: 40 Key Highlights of PM Modi's opening address at WEF 2018 summit in Davos
06:55 pm: BJP president Amit Shah praised PM Modi's speech at WEF 2018. In a series of tweets, Shah said that the PM raised key issues like terrorism, climate change and protectionism, which is is a reason of pride for all Indians.
"PM @narendramodi's speech at @wef plenary in Davos is a reason of pride for all Indians. He has perfectly articulated India's strengths and aspirations in the multi-conceptual world!," he tweeted.
"PM @Narendramodi has raised his voice against terrorism at every global forum. At @wef too, he gives a clarion call to the world, to unite to defeat the menace of terrorism," the BJP presidnet said in another tweet. 
05:45 pm: I think PM lived up to expectations of the entire world community. He asked the world to come together & also lived up to the expectation of offering a lead to world community to discover their future: Jitendra Singh, MoS PMO 
05:38 pm: PM gave an excellent speech. It is a historical day for India. PM gave very good message to global community especially on geopolitics, terrorism & environmental issues.: N. Chandrababu Naidu, Andhra Pradesh CM 
05:26 pm: PM has a vision of creating a new India by 2022, He is saying that why not create a new World at the same time when we create a new India. That is the substance of his speech, 'New World with New India': Suresh Prabhu, Union Minister 
05:07 pm: Rahul Gandhi continues his attack at PM Modi. "Dear PM, Welcome to Switzerland! Please tell DAVOS why 1% of India's population gets 73% of its wealth?  I'm attaching a report for your ready reference," Congress chief Rahul Gandhi tweets after PM's speech. 
05:00 pm: PM spoke as a global statesman speaks not only about India but also globalisation & larger issues of climate change & terrorism. Yes he spoke about reforms, the world is going inward and India is globalising and is ready for business: Rajan Mittal, VC & MD of Bharti Enterprises
04:59 pm: It was a very enthusiastic speech, PM talked about how Indian ethos can be a global role model in today's conflicting times: Dharmendra Pradhan,Union Minister
Watch full speech of PM Modi at Plenary Session of World Economic Forum 2018 in Davos here:
Read also: All you need to know about World Economic Forum 2018 in Davos and PM Modi's schedule