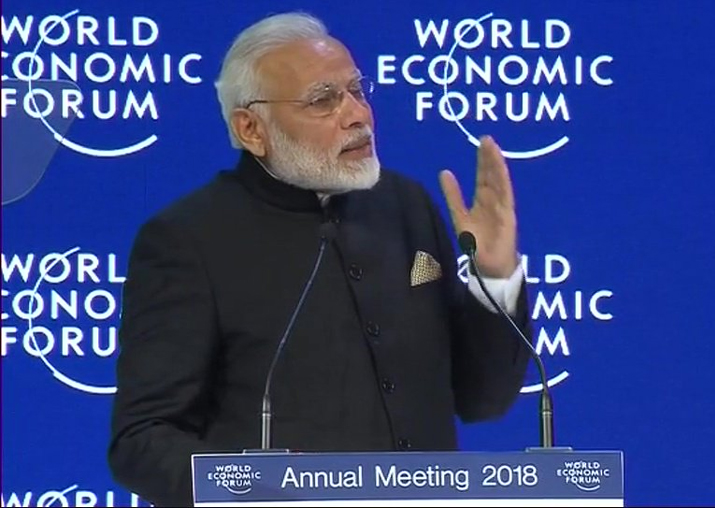 Prime Minister Narendra Modi on Tuesday delivered the opening keynote address at World Economic Forum 2018 summit in Davos and said that 125 crore of India are capable of creating a USD 5 trillion economy by 2025.
During his opening address at WEF summit, PM Modi told the world leaders and top CEOs to invest in India and assured them that the government and the people of the country will welcome them with open hands and hearts.
Here are the key highlights of PM Modi's address at the plenary session of the 48th World Economic Forum in Switzerland's Davos-
1. Indian population has welcomed reforms by giving up subsidies and showing dedication towards election process
2. 125 crore Indians are capable of creating a $5 trillion economy by 2025
3. We must understand and accept the changes in our surroundings, as the technology is developing. This is essential for any nation to progress.
4. Climate change, terrorism grave concerns before the world; everyone is aware of India's position on menace of terrorism.
5. Three biggest global challenges to humanity are - 1. Climate change 2. Some nations distinguishing between good and bad terrorists 3. Challenges to globalisation and openness.
6. We have taken a bow to end licence Raj in India. We are rolling out red carpet by culminating red tape in the country
7. India has done away with 1,400 archaic and outdated laws and rules in three years.
8. Reforming more than 1,400 laws related to business and civic life in a democratic system, you can only imagine the effort it takes. In India, democracy & demography are leading to development,
9. Central and state govts in India have come up with several reforms. Many traditions have been changed and we are on our way to bring in much more development in the country. To live within one's means, not to covet is in sacred Sanskrit texts, preached by Buddha in India & Gandhi also spoke of danger of greed. That is India's history.
10. In 2014 after 30 years, Indians provided complete majority to any political party to form govt at the centre. We took the resolution for the development of everyone and not just a specific group. Our motto is 'Sabka Saath Sabka Vikas'
11. We in India are proud of our democracy and diversity. 
12. For a society with diverse religions, cultures, languages, attires and cuisines, democracy is not just a political system but a way of living. Development is only possible through inclusive governance.
13. The talent of the people of India was engulfed into many challenges, our govt has managed to do away with much of those issues so that the youth of the country can work to their best
14. Many societies and countries are becoming self-centred. It seems that gloabalisation, as opposed to its definition, is shrinking.
15. India aims to produce 175 GW of renewable energy by 2022, says PM Narendra Modi in Davos. In the last three years we have achieved a third of our goal.
16. At present, climate change is a huge threat, snow in the Arctic is melting and many islands are sinking or are about to sink.
17. This year the topic here is 'Creating a shared future in a fractured world'. New powers are changing the balance between Economic and Political strength.
18. World is facing challenges in maintaining peace, stability and security.
19. Father of the nation Mahatma Gandhi was against greed and exploitation, so how have we moved to greed-based consumption.
20. Today we are exploiting nature for our greed. We need to ask ourselves if this is our progress or regression. It is now time to use Mahatma Gandhi's principle of trusteeship.
21. Humans today have wrong priorities to forward their own, personal causes, and this malpractice cannot be deemed any less a challenge than climate change and terrorism.
22. Everyone talks of an inter-connected world but we have to accept that the sheen of globalisation is fading.
23. Three major challenges to humanity are climate change, terrorism, self-centred nature of humans.
24. Terrorism is dangerous. Worse is when people say there is a difference between 'good' and 'bad' terror. It is painful to see some youngsters getting radicalised.
25. Caring for our environment is a part of the Indian culture.
26. Our technology-driven world has the ability to link, to bend and to break us.
27. Globalisation is wading off. Even as UN is still respected across the globe, but organisations set up after World War 2 have failed to catch up with the needs of the current world.
28. PM Modi talks of the age-old Indian concept of 'Vasudhaiv Kutumbakam' - the earth is but one family.
29. Data is the biggest property today; flow of data on a global level is creating huge opportunities but also poses the biggest challenges.
30. These fractures, divides, and barriers are a symbol of absence of development.
31. Technology driven transformation is altering our way of living. Politics and economics -- all has been influenced by technology.
32. World is facing challenges in maintaining peace, stability and security.
33. PM Modi talks of Brexit, Amazon, Harry Potter, cyberspace, Osama bin Laden, Twitter and other concepts to draw an analogy between the world of 1997 and the world of 2018.
34. The last time that an Indian Prime Minister attended this conference was in 1997, when our GDP was a little in excess of 400 billion dollars. Now, after all these years, it is six times of the 1997 GDP.
35. I am delighted to be here in Davos with you all for the World Economic Forum: PM Modi
36. World leaders are very well aware of the ratings that India received from various agencies.
37. If you want wellness with wealth, come to India. If you want wholeness with health, come to India. If you want peace with prosperity, come to India. You will always be welcome in India.
38. Our strength is our diversity. Have always stood above conflict.
39. India believes in "linking people," "not dividing them," treating them as "one family.
40. India and Indians have considered the world a family and so for the world, we Indians are a family.