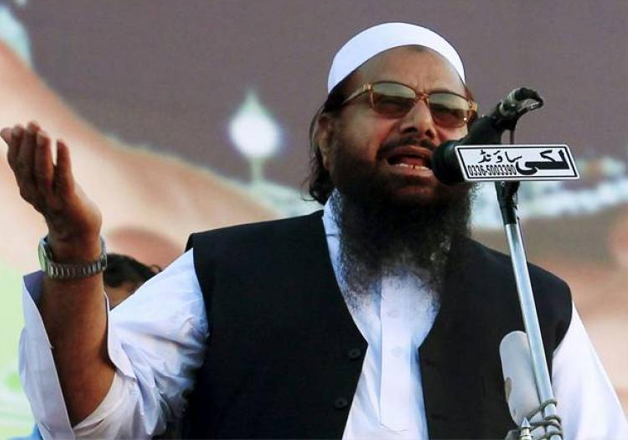 Pakistan today said that Islamabad doesn't need any certificate or endorsement from India over its recent action to place 26/11 mastermind and chief of Jammat Ud Dawa (JuD) under house arrest.
"As a matter of record the actions taken by the government of Pakistan have been carried out as per obligations vis-à-vis listing of Jamat-u-Dawa under UN Security Council Resolution 1267 in December 2008," Interior Ministry spokesperson said here.
The reaction comes in the wake of India questioning the seriousness of Islamabad's action against the militant whom t has allegedly harboured for years.
The Ministry of External Affairs had in a statement termed the action as mere tokenism and urged Pakistan to take 'credible' action against terrorist outfits.
"Exercises such as orders against Hafiz Saeed and others have been carried out by Pakistan in the past also. Only a credible crack down on the mastermind of the Mumbai terrorist attack and terrorist organisations involved in cross border terrorism would be proof of Pakistan's sincerity," MEA spokesperson Vikas Swarup had said.
"We will have to confirm this bit and if this is true then this is a welcome step from their side. We have been trying for peace with our neighbours even as our forces remain ready on the borders," MoS for Defence Dr Subhash Bhamre had said.
After the 26/11 Mumbai attacks and the listing of the JuD as a terror outfit by the UN, Saeed was put under house arrest from December 2008 to June 2009. The Lahore High Court had, however, termed his arrest invalid on technical grounds. Three months later, he was again placed under house arrest in September 2009, but only for a short period. 
In October 2009, the Lahore High Court quashed all cases against him, and said no charges could be filed against Saeed as his organisation was not banned as per the anti-terror law. In April 2012, the US announced a bounty of USD 10 million for information leading to Saeed's arrest and conviction. In 2014, the JuD was designated a "foreign terrorist organisation" by the US State department.
While New Delhi has demanded action against Saeed and other perpetrators of the Mumbai terror attack, Pakistan has cited its own judicial processes and pleaded helplessness.
The Pakistan's Interior Ministry today said that various actions that needed to be taken under the relevant resolution i.e arms embargo, travel ban and asset freeze were not carried out for some reasons by the previous governments.
 
The Spokesperson said that India has constantly been using Hafiz Saeed's political activities as a tool to malign Pakistan. 
"The international community should take note and understand that Pakistan is a democratic society where judiciary takes free, independent and transparent decisions. If indeed India is serious about its allegations, it should come up with concrete evidence against Hafiz Mohammad Saeed which is sustainable in court of law in Pakistan or for that matter anywhere in the world. Mere casting aspersions and leveling allegations without any corroborating evidence would not help the cause of peace in the region, continued the Spokesman Interior Ministry.
 
The Spokesperson further said that Pakistan is still looking for justification and explanation from India as to how all the accused involved in Samjhauta Express bombing where 68 Pakistani nationals lost their lives have gone scot-free. 
The involvement of Indian Army officer Lieutenant Colonel Prasad Shrikant Purohit and Hindu extremist leaders like Swami Aseemanand of Rashtriya Swayamsevak Sangh in the Samjhauta Express terrorist incident is a matter of record and has been widely reported in the international press without any positive response from India, it said.