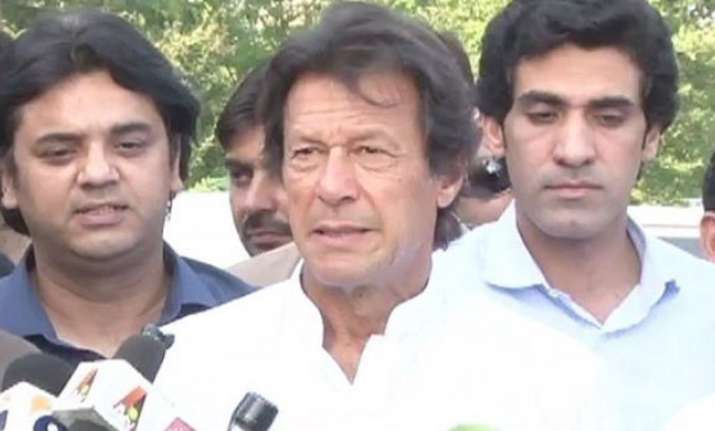 Cricketer-turned-politician Imran Khan announcing 'Occupy Islamabad' movement from next month appears to have worried the Chinese dispensation who are now seeking Khan's assurance that the agitation will not in anyway halt the CPEC project.
Khan, who leads Pakistan's opposition party PTI, had on Saturday called for 'Occupy Islamabad' where party workers will block roads leading to government offices in the capital city calling for Prime Minister Nawaz Sharif's disqualification in wake of charges of corruption against him.
"Kaptaan's lifetime of training for this very decisive moment, it's been a long time coming! Be very afraid Nawaz Sharif," The 64-year-old said  in a work-out video on Saturday.
"Now, Nawaz Sharif will have to either resign or will be held accountable for his proven corruption," Khan had said.
Soon after the announcement, Chinese Ambassador Sun Weidong met Khan at the latter's Bani Gala residence on Tuesday amid fears that his movement could disrupt the Rs 3-lakh crore China Pakistan Economic Corridor (CPEC) project.
However, Khan assured China that his planned protest next month is against corruption in the civilian government. He also sought to dispel the impression that the PTI's protests against Premier Nawaz Sharif was somehow meant to sabotage the $51 billion CPEC.
The Chinese envoy, reports said, sought Imran's support for CPEC and apprised him how much it is crucial for Pakistan's development.
The meeting was also attended by PTI vice chairman Shah Mehmood Qureshi, chief whip in the National Assembly Dr Shireen Mazari and chief spokesperson Naeemul Haq.
The meeting with Imran was requested by the Chinese envoy, Pakistani newspaper The Nation quoted a PTI source as saying.
Imran is reported to have told the Chinese envoy that the PTI protest is aimed at the 'rampant corruption' of the government and Prime Minister Nawaz Sharif and had nothing to do with CPEC.
Both also agreed that Chinese investment was crucial for Pakistan's future and prosperity, sources were quoted by the paper, as saying.