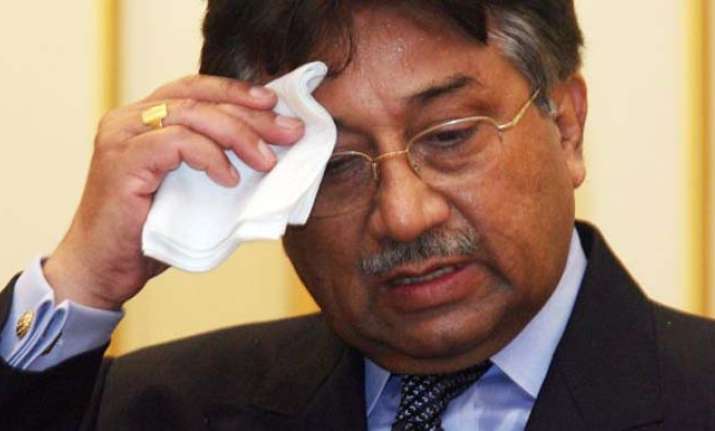 After Prevez Musharraf "persistently failed" to appear in the case involving killing of a cleric during the 2007 Lal Masjid operation, a Pakistan court today order confiscation of the former dictator's property.
A sessions court in Islamabad is trying the 73-year-old, who is currently in Dubai for 'medical treatment', over killing of Abdul Rasheed Ghazi when army stormed the Lal Masjid in the heart of the city.
Additional District and Sessions Judge (West) Pervaiz ul Qadir Memon ordered confiscation of former Pakistan President's properties under Section 88 of the Code of Criminal Procedure (CrPC), a lawyer said.
"The court ordered confiscation of property as the court said Musharraf persistently failed to appear in the case," according to lawyer Tariq Asad, who represented the cleric.
The court also rejected a plea by Gen Musharraf's lawyer, Akhtar Shah, who had contended that since army was acting in aid of civilian administration during Lal Masjid operation, hence, no criminal case could be filed against any official of the armed forces.
Gen Musharraf, who has been living in Dubai since March, has not appeared even a single time in the court despite warnings. The former military ruler flew to Dubai for purported medical treatment after the Supreme Court lifted the ban on his foreign trips and it is believed that he may never return to face a slew of several high-profile cases against him.
The court declared him a proclaimed offender and confiscated surety bonds of Rs. 200,000 this year.
A case was registered against former Army chief in 2013 for alleged role in killing of Ghazi.
Gen Musharraf was President of Pakistan 1999 to 2008 when he stepped down after his supporters lost elections. He lived in Dubai and returned in 2013 to take part in elections but was embroiled in several criminal cases including high treason for abrogating the constitution in 2007.
In January this year, Gen Musharraf was acquitted by court for alleged role in killing of Baloch rebel leader Nawab Akbar Bugti in 2006.
(With PTI inputs)