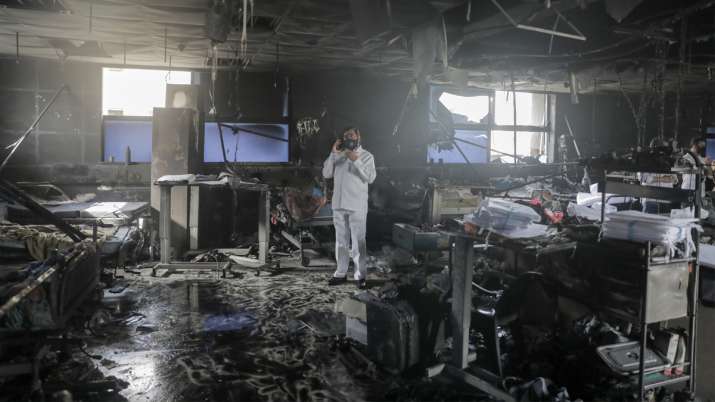 Maharashtra Health Minister Rajesh Tope has said that the Virar hospital tragedy that claimed 13 Covid-19 patients lives is not a "national news".
When reporters asked Tope whether the Virar hospital tragecy will come up during the discussion with Prime Minister Narendra Modi later today, he replied: "We will discuss about oxygen shortage, Remdesivir vaccine... this incident (Virar hospita fire) is not a national news but the state government will provide all posible help."
PM Modi is currently holding a meeting with Chief Ministers of 10 states including Maharahstra that are badly affected during the second wave of Covid-19.
13 coronavirus patients died after the blaze in the intensive care unit (ICU) located on the second floor of the four-storeyed Vijay Vallabh Hospital at Virar in the early hours of Friday. Five women and eight men died in the incident. There were 90 patients in the hospital, 18 of them in the ICU, when the fire broke out after a blast in the AC unit.
"13 people have died after a fire broke out in the Intensive Care Unit (ICU) around 3am today. 21 patients including those in critical condition have been shifted to another hospital," Dr. Dilip Shah, official, Vijay Vallabh COVID care hospital, Virar told ANI. The private-run hospital was turned into a dedicated Covid facility. 
Meanwhile, Chief Minister Uddhav Thackeray has announced a financial assistance of Rs five lakh each to the families of 13 COVID-19 patients who died in the tragedy. A statement from the Chief Minister's Office (CMO) said those who suffered serious injuries in the incident will be given Rs 1 lakh compensation each.
ALSO READ: Nashik oxygen leak: Heart-wrenching tragedy, says PM Modi; Uddhav Thackeray orders high-level probe
ALSO READ: Delhi records 26,169 coronavirus cases in last 24 hours, 306 deaths