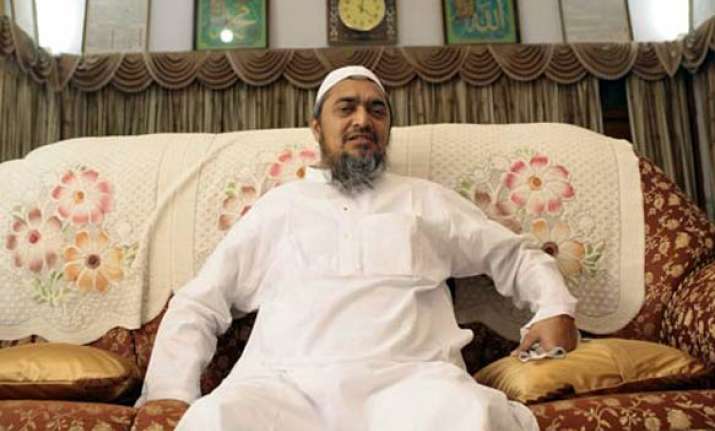 Deoband (UP), Feb 23: Controversial Vice Chancellor of Darul Uloom Maulana Ghulam Mohammed Vastanvi, who had raised the hackles of conservatives by his praise of Narendra Modi, today appeared to have earned a reprieve from a powerful body of the institution which rejected his resignation.
However, in a significant decision the Majlis-e-Shura or the governing council of Darul Uloom, which met here, appointed an acting VC, who would take over the position if Vastanvi's resignation is accepted.
The council appointed a three member committee to look into allegations against him.
"I'm still the Vice chancellor of Darul Uloom," said a smiling Vastanvi emerging from the 18-member governing council meeting which was attended by only 14 members.
60-year-old Vastanvi, who hails from Gujarat and has an MBA degree, was elected VC on January 10. The moderate Maulana, who has a facebook page in his name had triggered a controversy soon after his appointment with his remarks praising Gujarat Chief Minister Narendra Modi's rule and his development policy.
He had reportedly said that Muslims should forget the communal riots of 2002 and move on and that the community did not face discrimination in Gujarat.
"A three-member committee will look into all the issues and submit its report to Shura," said a statement issued on behalf of governing council, There was no time frame given to the committee to submit its report.
Reading out the statement, Maulana Abdul Alim Faruqee, who was standing alongside Vastanvi, said that the Shura rejected Vastanvi's offer to resign from the top job.
"The Shura kept the decision on Vastanvi's offer on hold till the submission of the report," he said.
"As of now, Mufti Abul Qasim Naomani Benarasi has been appointed as the caretaker Vice Chancellor of the Darul Uloom and in case if Shura accepts Vastani's offer of resignation, then Noamani will take over as the head of the institution," Faruqee said, adding during today's meeting the Shura members discussed all issues concerning the current situation prevailing in the seminary.
The new vice chancellor, Maulana Nomani, is also a member of the council and held the top job for a month after the death of longtime VC Maulana Marghub Rehman last year.
Nomani, in his 60s, runs a madarsa in Varanasi and is a widely respected Islamic scholar.
Vastanvi was greeted by a large crowd, mostly students, when he arrived here last night, contradicting the claims by his rivals that he has lost support among students. His supporters had launched a campaign on the social networking site Facebook to defend him from accusations.
Ever since Vastanvi, the first non north Indian VC since Darul Uloom was founded 145 years ago, took over, he has been under attack from conservatives. He is credited with having set up 65 centres of excellence across the country, where children receive education in both English and Urdu.
Meanwhile, the district authorities had deployed extra police force in the area to prevent any untoward incident.
"We are taking all precautionary measures and deployed one company to maintain law and order," a senior police officer said.
In the second week of February, clashes broke out inside the seminary between pro- and anti-Vastanvi groups, leaving several people injured. Following the clashes, prohibitory orders were enforced by authorities under Section 144 of CrPc to ensure peace in the sensitive town.
The media entry was banned inside the premises of the Darul Uloom. The reason given was that presence of media persons was affecting students preparations for the upcoming examinations. PTI