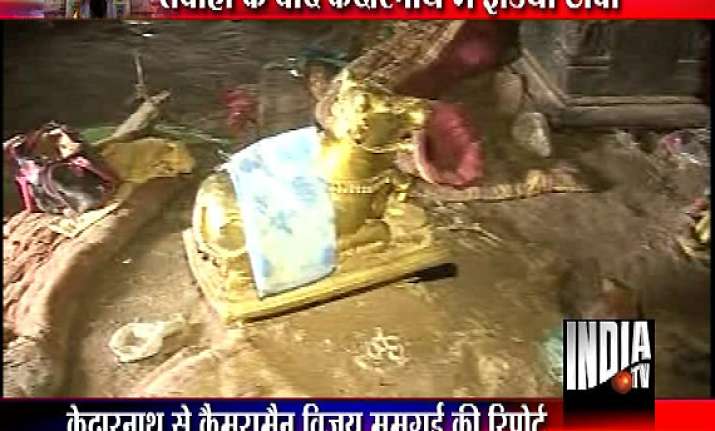 Kedarnath, Jun 22: The eighth century holy Kedarnath temple stood intact before the onslaught of huge flash flood in the Mandakini river, but the sanctum sanctorum inside the shrine, revered by millions of Hindus across the world, presented a bleak picture.
Shoes, ladies handbags, purses, personal belongings lay strewn inside the sanctum sanctorum, with the cash boxes open, as vandals had a free run of the area soon after the flood subsided.
India TV reporter Manjit Singh Negi alongwith cameraperson Mamgain described how the  silver canopy stood intact over the holy Shiva lingam, covered with mud.
This Shiva lingam was consecrated by Adiguru Shankaracharya when he set up the famous Kedarnath shrine.
The Nandi bull inside stood intact, as the other Nandi bull outside the shrine.  Outside the shrine, there were dead bodies still lying around in mud, with rescue and relief workers yet to appear.
On the walls stood the portraits of gods, mute spectators to Nature's fury, and old statues covered in mud.
The entire shrine presented a sorry spectacle, with experts saying that it could take at least three years for the shrine to be ready to welcome pilgrims.