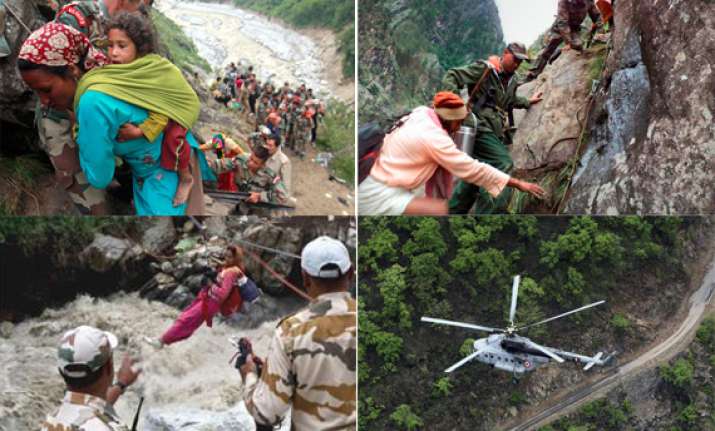 Pithoragarh, Uttarakhand, June 30: While choppers have been pressed in to rescue over 500 people stranded in Pithoragarh, the local administration officials are yet to reach most of the village cut off due to landslide, 14 days after the disaster.
Call it shortsightedness or something else, the local administration has nearly  forgotten flood-ravaged Pithoragarh district while focusing its efforts on Kedarnath, Badrinath and other areas ravaged by flash flood.
On June 15, heavy rains in Pithoragarh devastated over 200 villages, and more than 500 houses were washed away. Five people died, and 19 others are still missing.
Nearly 100 big and small bridges have been broken, with the Pithoragarh-Dharchula route blocked beyond Balwakot. Road connectivity up to 7 kilometres has been broken, with Kulaghat and Tawaghat bridges having been washed out.
The NH4 bridge has also been washed out, while Munsyari road has been blocked by landslide.  Over 20 houses, hotels and school buildings were washed away in Mathkot.
Three choppers were used to evacuate over 500 people from Dharma Ghati and Jowhar ghati.  25 pilgrims who had gone on Adi Kailash yatra have been stranded in Gunji, and are yet to be evacuated with rescue work being hampered due to bad weather.
Dense fog in the higher reaches of Dharchula is disrupting rescue work.  Half of the villages in Munsiyari and almost all the villages in Dharchula have been cut off from the rest of India.