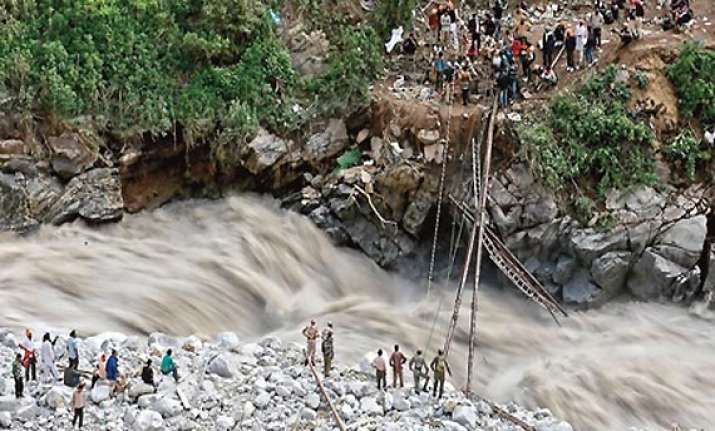 Dehradun, June 23: In a major breakthrough that could expedite the rescue of people stranded on the other side of the gushing Alaknanda river on Uttarakahand's Badrinath route, the army set up a makeshift "Burma bridge" to evacuate them on foot, an official said Sunday.
The "Burma Bridge" or a bridge with a thick rope to walk on and two to hold on, came up over the Alaknanda at Lam Bagar on the Joshimath-Badrinath road, an official of the army's Central Command told IANS.
This bridge would make possible for pilgrims to be evacuated by foot from the Badrinath-Govindghat stretch.
Meanwhile, vehicular movement also began between Govindghat and Joshimath as a result of which more than 1,300 people have moved ahead.
An official involved in the rescue operations said the areas between the places where landslides have not occurred would be crossed on vehicles while the areas where landslides have taken place will be negotiated on foot. Administrative and logistics staging areas have been set up at Sukhi and Gangnani for the people travelling by road, added the official.
Meanwhile, Central Command chief Lt.Gen. Anil Chait Sunday visited Gupt Kashi, Gauri Kund, Jungle Chatti, Goucher and Uttarkashi.
The army also air-lifted hygiene and sanitation items and chemicals, blankets, food packets and medicines to attend to the sick and old, caught in the inclement weather for a week now.
Several consignments of medicines have been transported to the medical centres set up by the army at Gaurikund, Goucher, Joshimath and Harsil.