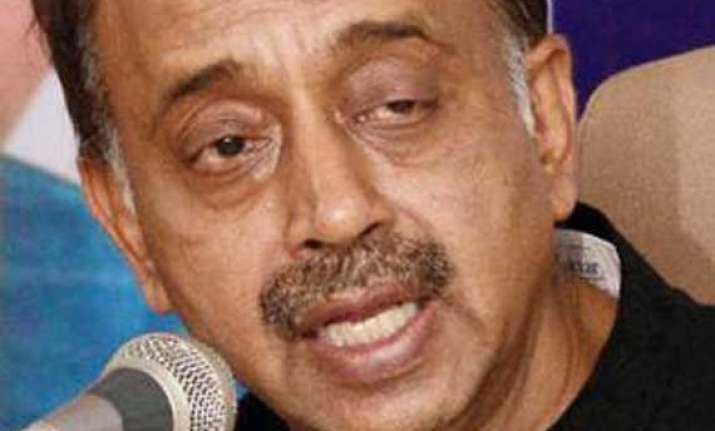 New Delhi: A virtual tug of war has broken out in Delhi BJP over the choice of Delhi's chief ministerial candidate, with strong contender Vijay Goel getting support from all 14 district presidents, and the party high command inclined in favour of former minister Harsh Vardhan.
Delhi BJP in-charge
Nitin Gadkari
today said, no selection has so far been made for the party's chief ministerial candidate.
Notwithstanding Nitin Gadkari's denial, Delhi BJP was  abuzz over the choice of the Chief Ministerial candidate in the Delhi assembly election.
Amidst reports that former Health Minister Harsh Vardhan is a favourite for the post, BJP's Delhi Election in-charge Gadkari issued a statement, saying the party has not chosen any leader as its Chief Ministerial candidate.
Any decision on the issue will be taken by BJP's Parliamentary Board, he said in a statement.
However, a number of senior Delhi leaders are understood to have conveyed to the party leadership that they should announce the candidature of Vardhan who is believed to have wider acceptability among people, party leaders and workers.
Party sources said leaders including L K Advani, Narendra Modi, Sushma Swaraj and Ananth Kumar are in favour of declaring Vardhan as candidate for the top post.
Unfazed by reports of projecting Vardhan as a front runner, Delhi BJP president Vijay Goel pitted himself as a widely acceptable face for the Chief Minister's post and said his popularity has been reflected in various opinion polls.
"The opinion polls projected me against Sheila Dikshit. Look at the result of the opinion polls. My party is ahead and I am also ahead (in the race for Chief Ministerial candidate)," he said at a press conference.
Claiming that he has strengthened the party to a great extent, he said a decision on the issue will be taken by the Parliamentary Board on the basis of opinions of the party workers as well as that of the public.
"It will be decided by the public, party workers and the opinion polls. The Parliamentary Board will take a decision based on views of the public and inputs of the party workers..Almost all the surveys said I am ahead," Goel said adding he has sent result of all opinion polls to Gadkari.
The Delhi BJP president today separately met party President Rajnath Singh, Gadkari and General Secretary (organisation) Ram Lal.
Sources said party's all 14 district presidents today met Gadkari and expressed their support to Goel's candidacy for the top post.
Asked whether he will happily accept decision of the party on the issue, he said "My happiness will depend on who is chosen for the post." When insisted whether he will continue to work in same vigour if somebody else is made Chief Ministerial candidate, he refused to answer.
Sources close to him said the party should go for a secret ballot if it is found to be difficult in arriving at a decision on the issue.
Favouring clarity on the issue at the earliest, Goel admitted that said party has delayed making a decision on the matter.
Asked whether he will contest the election, Goel said he would like to but a final decision will be taken by the party leadership.
A number of senior leaders in Delhi BJP are said to be of the opinion that leadership has not been able to take a decision on the issue fearing Goel may damage party interest if he is not chosen as Chief Ministerial candidate.