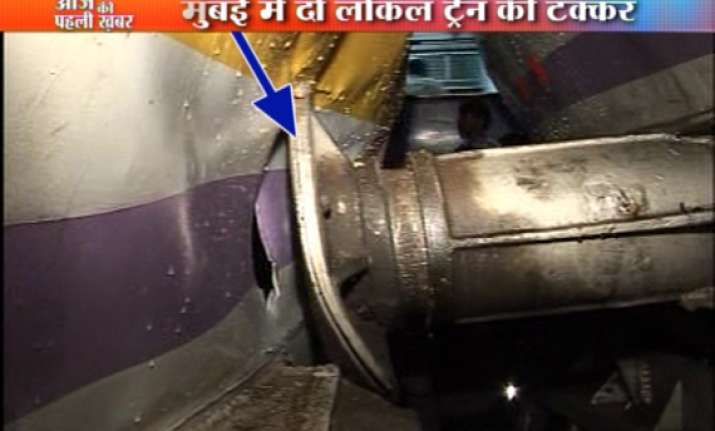 Mumbai, June 17: Two suburban local trains came on the same track and collided near Andheri railway station late last night injuring ten persons, all of whom were later discharged after first aid.
A slow local train  from churchgate to Virar was diverted on the fast track and it collided with an oncoming tain leaving Virar for Churchgate between Jogeshwari and Andheri at around 11:10 pm.  
The drivers of both locals fled from the spot fearing lynching from angry passengers, eyewitnesses said.  
Train services remained disrupted the whole night on the Western Railway suburban railtracks. It was restored this morning with trains running late.  
The collision took place at platform no.4. leaving ten persons injured. Angry passengers began stoning the local train soon after the mishap.
The Western Railway will set up an inquiry committee on Monday to probe the cause behind the collision. 
The railways have paid the following ex-gratia to the injured passengers at BSES Hospita, Andheri:  
Christina Paul F40, grievous injury - Rs 5,000
Salim Khan M21, grievous injury - Rs 5,000
Arvind Dubey M28, minor injury Rs 500
Sameer Malik M16, minor injury Rs 500
Andrew Paul & Sachin Kamble- trivial injury, left hospital  
No ex-gratia paid  yet at Cooper Hospital :
Manimaya K. F45 simple injury
Rakul Islam M21 grievous  injury  
Railways have decided to bear the treatment expenses of all injured passengers.