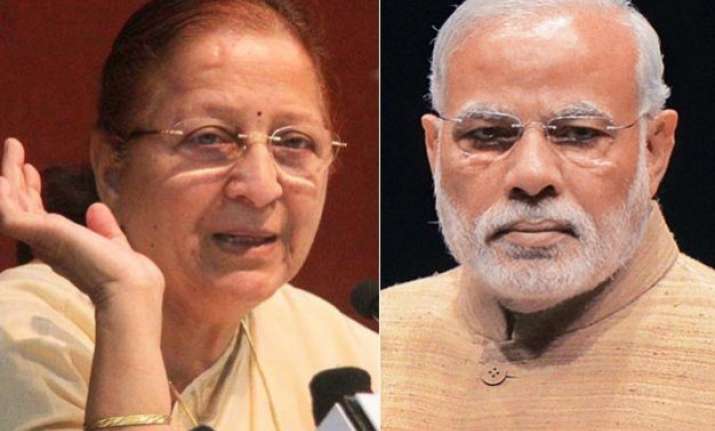 New Delhi:  India will boycott a Commonwealth Parliamentary Union meeting in Islamabad next month in protest against Pakistan not inviting the Speaker of Jammu and Kashmir Assembly, a decision that comes in the midst of tensions over two terror attacks in Punjab and J and K.
"A meeting of Speakers of all states here today unanimously decided that India will boycott the meeting of the CPU if the Speaker of the Jammu and Kashmir Assembly is not invited," Lok Sabha Speaker Sumitra Mahajan told reporters after the meeting.
Prime Minister Narendra Modi on Friday urged movie stars, youths and others to use handloom products to give a much needed boost to the sector.
He was in Chennai to launch the National Handloom Day and the India Handloom brand for better market positioning of Indian handloom products.
New Delhi: Justice Dipak Misra who led the Supreme Court bench that rejected the mercy plea of Yakub Memon, death convict of 1993 Mumbai serial blasts, has received an anonymous threatening letter.
The letter threatens him that he will be targeted even if his security is increased, according to some media reports.
New Delhi: Launching a scathing attack against Union Minister for External affairs Sushma Swaraj in Lalitgate case, Congress vice-president Rahul Gandhi today asked her to disclose the amount of money Lalit Modi paid her family to keep him out of jail.
"Sushma ji should tell how much money Lalit Modi gave to her family to keep him out of the jail," Rahul said.
Tamil Nadu Chief Minister J Jayalalithaa today took up with Prime Minister Narendra Modi a slew of issues concerning her state, ranging from inter-state river disputes to the GST rollout, besides the Sri Lankan Tamils issue.
Jayalalithaa presented a detailed memorandum to Modi during their 50-minute luncheon meeting at her Poes Garden residence here.