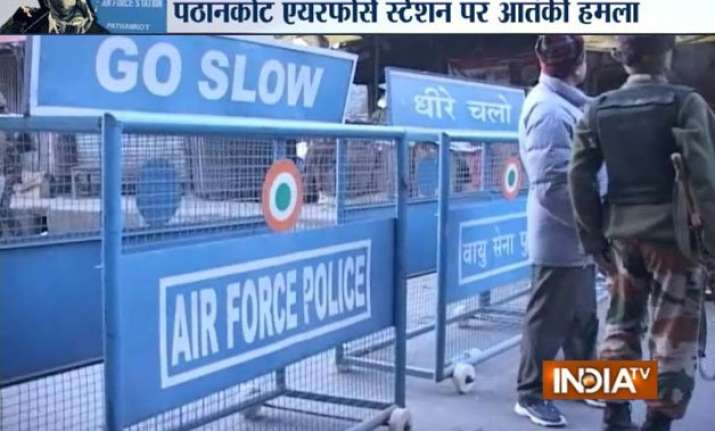 Pathankot: Security forces have neutralised five suspected Pakistani terrorists who staged an attack on an Air Force Base here in Punjab's Pathankot district, triggering an encounter. Three IAF personnel were martyred and 6 security men were injured in the gunbattle that ensued.
All five terrorists have now been neutralised, security officials said.
At least five militants, believed to be from the Jaish-e-Mohammed terrorist group, decked in Army uniforms launched the attack in the wee hours with an aim of destroying the air base, a top security official said.
The entire area was cordoned off, police said, adding that the attackers, who had abducted an SP yesterday, are linked with attack and had also made calls to Pakistan. Pakistan's role became even more evident with reports of call intercepts revealed that the terrorists were in touch with their handlers in Pakistan.
A total of four calls were made to Pakistan just hours before the terrorists launched the attack. One call was made by a terrorist to his mother informing her that he was on a suicide mission, intercepts have revealed.
Intelligence inputs had been available of a likely attempt by terrorists to infiltrate into the military installation in Pathankot area, the IAF said, adding that the inputs enabled security agencies to detect a group of  terrorists through aerial surveillance.
"The infiltrators were immediately engaged and contained within a limited area, thus preventing them from entering the Technical zone where high value assets are parked," the IAF said in a statement. "Through timely and prompt action by all agencies, the likely plan of the terrorists to destroy valuable assets of the Air Force has been foiled," the statement read.
Though the encounter is now over, combing operations are still on.
Here are highlights of the major events that transpired through the day:
* Pathankot Air Base attack is highly condemnable. Kudos to brave soldiers for dispelling the attack and salute to martyrs: Arun Jaitley
* Three Service Chiefs and NSA Doval brief Defence Minister Manohar Parrikar at South Block on Pathankot terror attack
* Two more militants have entered India
* Our Central agencies are working in coordination with Punjab Police: Kiren Rijiju
* Have credible info about this attack being sponsored by some elements across the border: Kiren Rijiju, MoS, Home
* Islamabad remains committed to partner with New Delhi and other countries in the region to eradicate menace of terror: Pakistan Foreign Ministry
* Pakistan condemns terrorist incident in Pathankot in which many precious lives have been lost: Pakistan Foreign Ministry
* Rajnath Singh briefs PM Modi on Pathankot terror attack
* NSA Ajit Doval briefs PM Modi on Pathankot terror attack
* All 6 terrorists belong to Pakistan based Al-Rehman trust. The came from Bahawalpur after 6 months training and were in touch with handlers Ashfaq Ahmad, Abdul Shaqur.
* Intelligence inputs say that they entered into Indian territory via Gurdaspur area.
* Terrorists wanted to blow up aircrafts at the IAF base and then capture the civil area.
* Garud commando of IAF killed in Pathankot encounter; toll of security personnel rises to three: Defence sources
* Fifth militant killed in gun battle
* Fresh firing at Pathankot during combing operations
* NIA team reaches Pathankot
* A total of six security personnel including 4 from the Defence Security Corps and two Garud Commandos were injured in the attack 
* Attackers made four calls from Pathankot to Pakistan between 12.30 am and 2 am, just hours before the attack: Sources
* I am happy that our forces gave a befitting response in Punjab, I am proud of them: Rajnath Singh
* Pakistan is our neighbor & we want peace, but any terrorist attack on India will get a befitting response: Rajnath Singh
* Any aggression towards us will receive a befitting reply from our side: Home Minister Rajnath Singh
* Defence Minister Manohar Parrikar to hold a high level meeting on Pathankot attack with security officials in the evening.
* This is part of a continuing movement by Pak to use terrorism against India: Ajay Sahni, Defence expert
* Terrorists had infiltrated into India 3 days ago, sources say they are from Bahawalpur in Pakistan
* Area not sanitised yet, combing operation continues: Dhillon
* Gunbattle between terrorists and security forces ends: Punjab Police ADGP (Law and Order) H S Dhillon
* Security stepped up in Delhi after Pathankot terror attack
* All 4 militants killed: SSP RK Bakshi
* We are here, we are vigilant and on standby, says Abhinav Trikha (DC, Gurdaspur)
* Local brigade commander of army is coordinating in operation, army UAVs and IAF also involved in operation.
* Based on developments yesterday, alert was sounded accordingly. 2 army columns, Special Forces & NSG were present in area.
* Pathankot MLA Ashwani Sharma at the site of terrorist attack.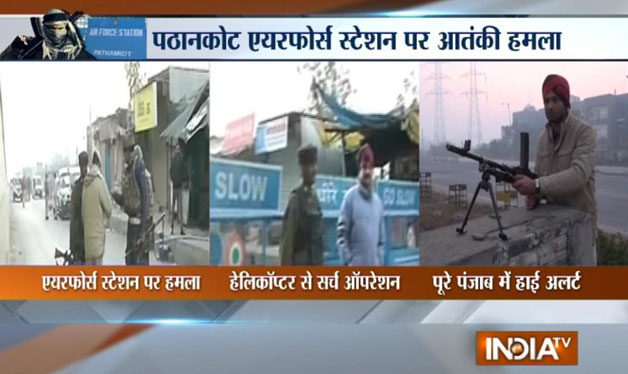 * The entire state of Punjab is on high alert after #Pathankot attack: Surinder Singh (SHO, Sarabha Nagar).
* Top officials convene emergency meet at Air Force HQ in Delhi, situation moniotored at the highest level.
* NSG team & Garud Commando Force are engaged in the gun battle with terrorists.
* High alert on the international border (IB) in Kathua and Border Security Force troops guarding the IB have been ordered to be extra vigilant.
* High alert on Pathankote-Jammu highway after Punjab terror attack.
* Terror outfit Jaish-e-Mohammed role suspected in attack.
* 2 IAF jawans killed in terror attack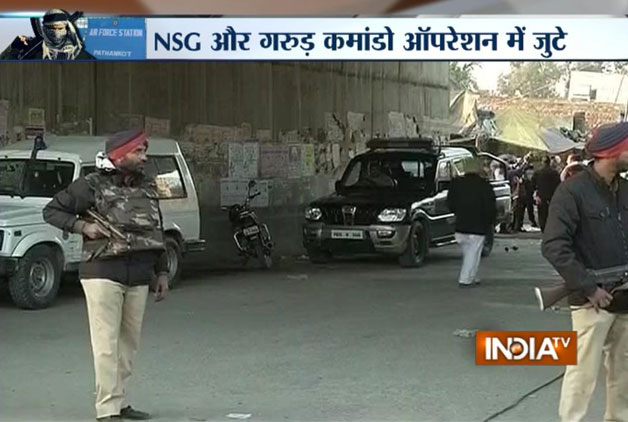 * NSA Ajit Doval is personally monitoring the entire situation.
* High alert at Palam Air Base in Delhi.
* The firing is on in the area behind Air Force base: PTI
* Air force says technical area intact, terrorist are at near DSC mess.
* Two militants killed: Police
* Gunfire started at around 3:30 am, authorities said, adding that an official car was used to launch the attack.
* The technical area where MiG 29 fighter aircraft and helicopters are kept is safe.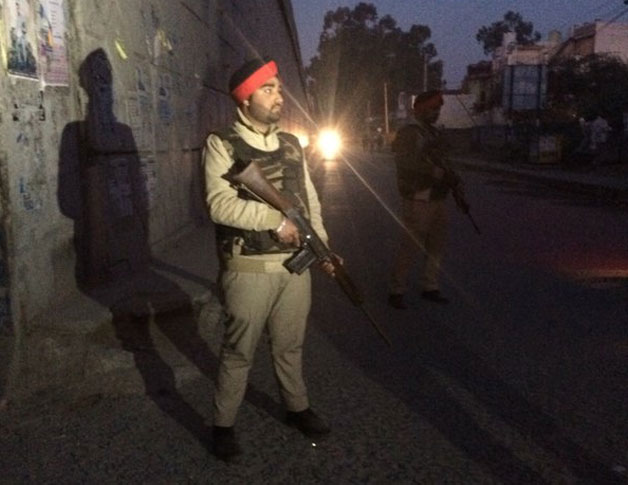 * National Security Guard has been called in.
* Helicopters have also dispatched to the area for assistance in operation.
The attack comes days after PM Narendra Modi's unscheduled visit to Pakistan. It is the second big terror attack in Punjab within less than a year as last year three militants stormed a police station in Diana Nagar before being eliminated after 12 hour gun battle.
Yesterday, five suspected militants abducted an SP and two others and thrashed them before dumping them from vehicle. After the incident a combing operation was launched in the border areas of Pathankot and Gurdaspur districts.