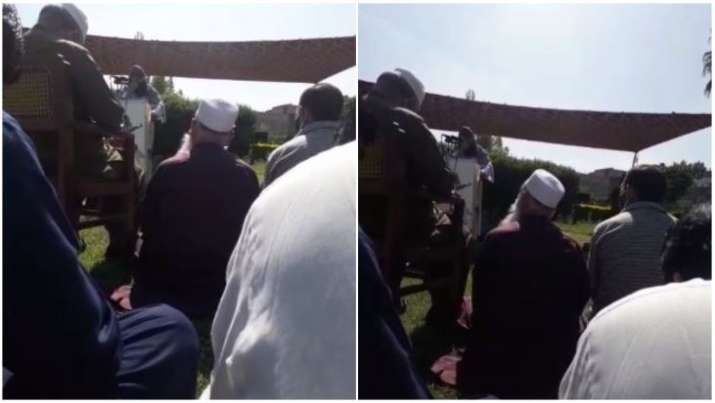 Pakistan has been exposed yet again after Syed Salahuddin claimed that Hizbul Mujahideen was behind the dastardly Handwara attack in Jammu and Kashmir. A video released by news agency ANI shows Salahuddin, head of the terror outfit and a US State Department-designated global terrorist, speaking to his followers claiming the Handwara terror attack. Five security personnel, including an army colonel and a Major, were among those who were martyred in the attack as they protected innocent civilians till their last breath.
Later, in an operation launched by the security forces in Awantipora, Riyaz Naikoo, the mastermind behind the revival of Hizbul Mujahideen in Jammu and Kashmir, was shot dead. Three other terrorists were also eliminated in the operation. Naikoo had escaped the security dragnet several teams in eight years since he joined the terrorist outfit in 2012.
In the video, which is apparently from PoK's Muzzafarabad, Salahuddin is seen speaking at a meeting to mourn Riyaz Naikoo's death. Naikoo's killing has weakened the terrorist outfit and Salahuddin is seen accepting the same in the video. Clearly, the killing of Riaz Naikoo has come as a big jolt for the terror groups engaged in Kashmir. It is not known where in PoK was the video recorded but it clearly establishes how terrorism is perpetrated by these groups against India. 
According to sources in the Indian army, it was on May 1 when the security forces first confronted the holed-up Pakistan-backed terrorists. After locating the terrorists in the Rajwada forest area, the Army along with Jammu and Kashmir Police attacked the spot. However, the troopers partially held their fire after they witnessed that at least 11 civilians, including five women, were being used as cover by the terrorists.
While one terrorist suffered an injury during the exchange of fire on May 1, the others used the women as human shields to flee the spot. On May 2 when the security forces received information about the terrorists hiding in a cowshed, a team of the Indian Army, led by Colonel Ashutosh Sharma, the Commanding Officer of 21 Rashtriya Rifles, reached the Rajwada forest area in Handwara. The team first ensured that at least 10 civilians present in the area first leave the site without any harm. The team didn't want any hostage situation.