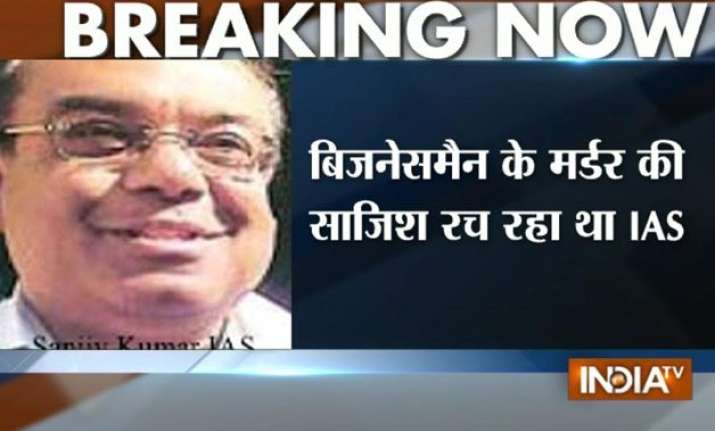 New Delhi: Crime Branch of Delhi Police today morning arrested suspended IAS officer Sanjeev Kumar for hatching a criminal conspiracy to kill one of his close associates.
Three contract killers were also arrested. They are identified as -- Shoukat Pasha and two of his sharp shooters Manna and Taufiq.
The Haryana cadre officer was arrested for trying to murder his friend Tikka Mustafa Khan.
Sanjeev, also an accused in JBT scam of Haryana, hatched a conspiracy with contract killers who were lodged in high security Tihar Jail.
Al three were told to kill Mustafa. Sanjeev had planned to get himself injured in the fight in order to get bail on medical grounds.
On March 5, the Delhi High Court had upheld lower court sentence and Sanjeev was convicted for ten years.
Last year, Sanjeev got bail on medical grounds, claiming "mental illness". However, after High Court order, Sanjeev went underground and started staying at Mustafa's residence in New Friends Colony in New Delhi.
Mustafa also had parked ill-gotten wealth of Sanjeev and other politicians in JBT scam. Kumar wanted to usurp the wealth and put the entire blame on Chautalas. Kumar wanted to stage manage the entire crime. He wanted to show that Chautalas were after his life and told contract killers to injure him after killing Mustafa.
Police say Enforcement Directorate and Income Tax have been informed to track and trace the money trail of JBT scam.
Crime Branch said CBI has blamed Mustafa of hiding bribe money of politicians and bureaucrats in JBT scam.  Delhi Police said CBI has been told about Mustafa providing safe hideout to IAS official against non bailable warrants.