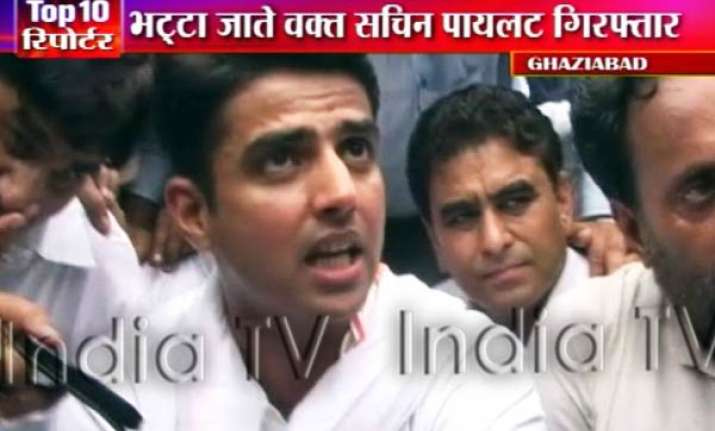 Greater Noida, May 22 : Reviving the Bhatta-Parsaul farmers' issue, Congress leader Sachin Pilot today visited protestors lodged in Dasna Jail and was arrested on way to the violence-hit areas to meet families of those injured during the agitation over land acquisition.

Pilot, Union Minister of State for Information Technology, along with around 100 supporters, was arrested on National Highway 24 when his cavalcade left for Bhatta and Parsaul villages after he met those jailed during the farmers' agitation demanding more compensation for their land.

The 34-year-old minister and his supporters were first taken to the police lines and later escorted to the UP-Delhi border at Noida before being released around 4:30 PM. They were taken into custody at around 2:30 PM under section 151 CrPC (arrest to prevent commission of cognisable offences).

"I will brief the Prime Minister tonight when I meet him at the UPA dinner. We will not allow the UP government to forcefully acquire land. They should stop the land acquisition totally. The UP government should conduct a judicial inquiry and take the views of NCW and NHRC seriously," Pilot told reporters after his release.

He alleged that the Mayawati government in Uttar Pradesh is abusing its power and "killing people".

"I was not allowed to enter even Gautam Budh Nagar. I was arrested in Ghaziabad. I told the police that I just want to meet the villagers of Bhatta-Parsaul but they did not allow," Pilot said.

On his visit to Dasna Jail, where he was allowed inside with two of his supporters, Pilot said he met 22 villagers who have been booked "under as many as 14 sections" of IPC.

Four persons, including two policemen, were killed on May 7 during the Bhatta-Parsaul agitation.

"We want a judicial probe into the entire incident (at Bhatta-Parsaul). I was going to Bhatta-Parsaul to meet and console the families of the villagers. I was not breaking any law and my arrest is unjustified," he said.

Congress General Secretary Rahul Gandhi was arrested on the night of May 11 by the UP Police after he had slipped unnoticed in pre-dawn hours to the affected area in support of the farmers agitating against the state's land acquisition process for an expressway project.

Gandhi, who had spent nearly 19 hours at Bhatta Parsaul, was arrested under Sec 151 CrPC and released later.

Backing Gandhi's claim of police atrocities on farmers in Greater Noida villages, the National Commission for Women has said complaints of molestation, stripping and rape of women as well as of people being burnt alive have come before it and has sought a CBI probe to "bring out the truth".

The UP government has, however, dismissed as baseless the allegations of burning of people and rape of women in Bhatta-Parsaul and said preliminary forensic reports of ashes collected from the area have ruled out presence of any human remains.

Attacking UP Chief Minister Mayawati, AICC General Secretary Digvijay Singh, who had accompanied Gandhi to Bhatta-Parsaul, accused the BSP government of "throwing away all the commitments given by the earlier governments about land acquisition."

He said in Delhi that Pilot has also facilitated a number of compromises between the farmers and administration on the issue.

Singh lauded Pilot's commitment to the cause of the farmers saying he has inherited it from his late father Rajesh Pilot, who had raised the issue of land acquisition many times.

Asked as to what will be Congress' strategy in wake of the UP government not indicating any move to increase the compensation to farmers of Bhatta-Parsaul, Singh said it was a "political fight" and Congress would continue to raise the issue.

Taking the land acquisition issue in UP to the Prime Minister Manmohan Singh's door, Gandhi had on May 16 complained to him about about alleged "rape" of women and "murder" of farmers there.