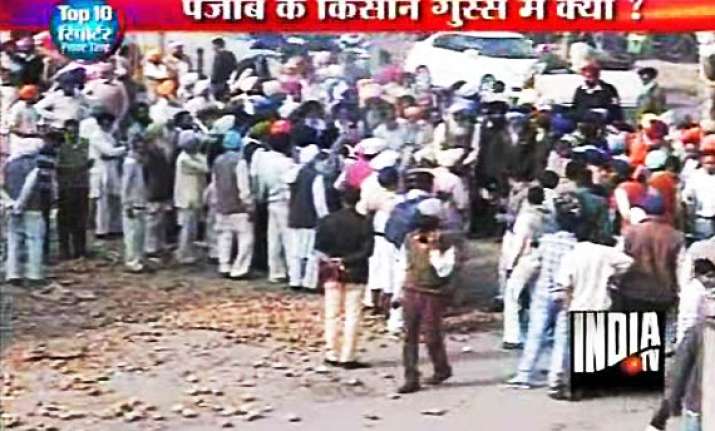 Chandigarh, Dec 10: Farmers in Punjab today decided to throw potatoes on roads in Jalandhar on December 15 to protest the fall in the crop's price to as low as Rs 1 per kg and the insensitive attitude of the state towards them.

"We have decided to start our agitation on December 15, and have asked all potato growers in Punjab to bring their crop to Jalandhar to throw them on road to protest the insensitive attitude of state government towards our problems," Jalandhar Potato Growers' Association President J S Sangha said.

Potatoes stored in cold storages are fetching Re 1 per kg, while the early sown crop are going for Rs 2-3 per kg due to excess supply and low demand.

Potato growers are demanding that the state government provide freight subsidy of Rs 1 per kg on marketing of old crop in the domestic market and Rs 2 per kg for export by December 10 to bail them out of this crisis situation.

Sangha alleged that nobody from the state government has bothered to ask potato growers to understand their problems.

In 2009, when potato rates had plummeted, the Punjab government had offered a freight subsidy of 0.50 paise per kg for marketing of potatoes within the country and Rs 1.5 per kg for exports.

Meanwhile, a senior official of Markfed, when contacted, said a proposal to offer freight subsidy to potato growers on the pattern of 2009, has been forwarded to the government for its approval, which is likely to come by next week.

Farmers from potato growing areas of Jalandhar, Kapurthala, Nawanshahar, Bathinda, Ludhiana and Moga have been asked to participate in the agitation.

The problem of glut situation arose as farmers had stored last year's crop in huge quantity in cold storages, anticipating higher rates.

However, due to poor demand for seed potato from states like Gujarat, Karnataka, Maharashtra and Andhra Pradesh, the prices crashed.

Farmers' troubles worsened with arrival of early sown potato crop in the market which further pushed down the rates of crop stored in cold storage, a senior official of Punjab Horticulture Department said.

Growers say about 15-20 lakh quintals of potato from the last season is still lying in cold storages.

Punjab grows potato over an area of over 80,000 hectares with annual output of 21 lakh tonne. The state has almost 5-7 per cent share in the country's total potato production and over 60 per cent of state's potato output is seed potato crop which is supplied to other states.