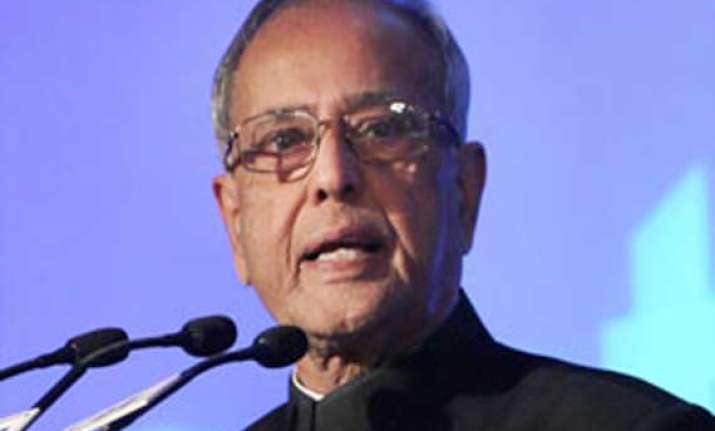 New Delhi: Recounting the steps he has taken during the first two years of his tenure to open up Rashtrapati Bhavan to the public, President Pranab Mukherjee said yesterday that he is looking forward to having more grassroots innovators, writers and artistes stay at the presidential estate as part of a new residency programme.
Addressing media persons during an informal meet over tea at the grand Ashoka Hall in Rashtrapati Bhavan, the president said the first-ever residency programme launched by the presidential palace would allow the innovators, writers and artistes to stay for around three-four weeks at the premises of the President's Estate.
The president said he was keen to encourage more and more grassroots innovators and artistes to be able to stay in the new apartments in the estate. He explained how one of the innovators had developed a gadget that could be used by women to repulse any physical attacks. The gadget would stun the assaulter with a strong electric charge and at the same time raise alarm.
Another grassroots innovator was developing a way to hasten the method to make compost. A 17-year-old was among the first batch of innovators to be selected for the residency programme, he said.
Describing how the Ashoka Hall with its wooden floor was the ballroom for the British rulers, Mukherjee said his efforts to throw open the presidential palace to the public and make access easier for those wishing to visit had paid dividends with over six lakh visitors coming to view Rashtrapati Bhavan.
The president also said that he preferred not to undertake visits abroad, unless absolutely necessary and had specifically told the ministry of external affairs to keep that in mind.
Mukherjee has so far visited five countries, including two neighbouring ones of Bangladesh and Mauritius.
"I have done enough foreign visits during the time I was minister," he said. Mukherjee has held the external affairs, defence and finance ministry portfolios.
Besides the museum, constructed in what used to be stables, the Rashtrapati Bhavan is making another high-tech museum.
Keeping in mind the inconvenience caused to visiting dignitaries and the personnel of the armed forces and the president's body guard whenever it rains during the Guard of Honour ceremony, a new structure is being constructed in the presidential palace for such occasions, he said.
Whenever it rains, the dignitaries and others are rushed into the Durbar Hall or other places to escape the rain but the armed forces personnel get drenched, and there is confusion. The new structure would be used during the monsoons and whenever it gets overcast, the president said.