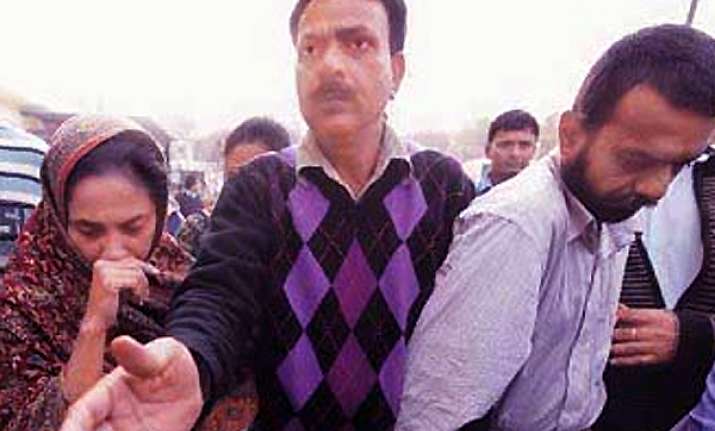 New Delhi, Dec 19: Suspected Pakistani woman spy Soofia Kanwal who had come to Delhi with her companian Imran, a former Gujarat resident, was actually a suicide bomber set by Pakistani espionage agencies to target Indian politicians, particularly Gujarat chief minister Narendra Modi, The Times of India reported on Monday.
IB and RAW officials who interrogated her and Imran say, the woman fidayeen was trained in Pakistani jihadi launch pads and had been infiltrated in India on a terror mission.

"There are several such fidayeen waiting to strike", sleuths told the newspaper.

During interrogation, police have found out that Gujarat chief minister Narendra Modi was on Soofia's radar  and she was giving finishing touches to her terror plan on directions from her Pakistani masters.

On whether Soofia was a fidayeen, a senior officer said, "We have information that she is a fidayeen who has been trained to carry out blasts. During questioning, she did not disclose much and we may take her into custody again and question her."

Police did not recover any explosives from Soofia, but they suspect she was to be provided logistical support by terrorist outfits.

A police officer said there are a number of ISI sleeper cells across India, whose agents gather information on Cantonment areas, military establishments and movements of important politicians and places of target.

"They then pass on this information to their ISI bosses in Pakistan through emails. This information is later relayed to terror outfits present in various Indian cities to carry out attacks. But in Soofia's case, she was herself a trained spy and attacker who could carry out a blast on her own," said a police officer. Soofia also had Gujarat's Akshardham temple on her radar, said a source.

Police are trying to identify people who would have helped Soofiya in her 'big mission'. "They had planned to attack political leaders and also blow up some places in important cities," the officer said.

Soofia, 38, a native of Sharifabad (Karachi), and Imran were arrested last week from New Delhi railway station. Imran, originally from Ahmedabad, went to Pakistan in 1988 and settled down in Karachi. He began a textile business there in 2007-08, but incurred huge financial loses. He was then approached by ISI with an offer of training and money for escorting a trained spy, Soofia, to India. Sources added they entered India through the Sanauli border in Nepal and took a train to Delhi.

"They had come to Delhi as they had to go to Agra to meet an ISI agent, who is directly in touch with ISI brass in Pakistan. That person, who is yet to be traced, was to complete their travel arrangements and provide them further guidance on their mission," said an officer.

During their arrest the police recovered an Indian Election Commission card, a Pan card and an old Indian passport that was issued in Ahmedabad in 1986 from Imran in addition to a Pakistani citizenship card and a Pakistani passport from Soofia. Soofia was also carrying a marriage certificate claiming to be Imran's wife, which police say is fake.