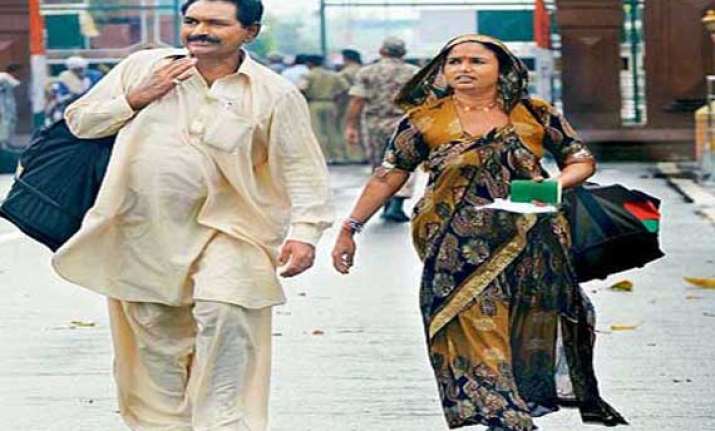 Attari-Wagah border, Amritsar: A Pakistani Hindu couple Anil Kumar and Poonam migrated to India on Tusday leaving behind their business and family members at the mercy of Islamic fundamentalists.
The couple reached Wagah border and vowed never to return.
"Hindu boys are threatened of dire consequences, Hindu businessmen ar not allowed to conduct their business or open shops and are forced to   embrace Islam " said the couple Anil Kumar and Poonam, carrying a handful of luggage, weeping, as they crossed the Radcliffe Line on foot.
The couple said, forcible conversion of Hindu girls  in Pakistan by fundamental Muslims was common  and now even Hindu  males are  forced to embrace Islam.
Anil Kumar told reporters he got a visa from the Indian embassy after he said his wife had heart problems, and wanted  treatment in Indore.
"We have had enough of Pakistan. Now we will not go back and will die in India" said Anil Kumar.  
He said Hindu shopkeepers were threatened to give Hafta (weekly protection money) if they had to open their shops and were also asked to embrace Islam if they wanted to make their lives better.
"I have a shop in Larkana in Sindh. The Muslim fundamentalists asked for Hafta  and  when  I ddidn't give them they threatened to eliminate my family" he said.
Poonam's  brother-in-law was shot dead and  her  brother was kidnapped by Muslim fundamentalists.
She said "Every Hindu is facing  atrocities at the hands of Muslim fundamentalists. Earlier, Hindu girls were kidnapped and forcibly converted but now  Hindu boys are also made to embrace Islam", she said.
Poonam said her father had lost both of his legs in a bomb blast.
Anil Kumar said he had left behind eight sisters, a  brother and mother besides his shop in  Larkana, Sindh.
"I know they will be in trouble but every Hindu in Pakistan now wants to migrate to India" adding that he would try to help his family to get visa to travel to India.