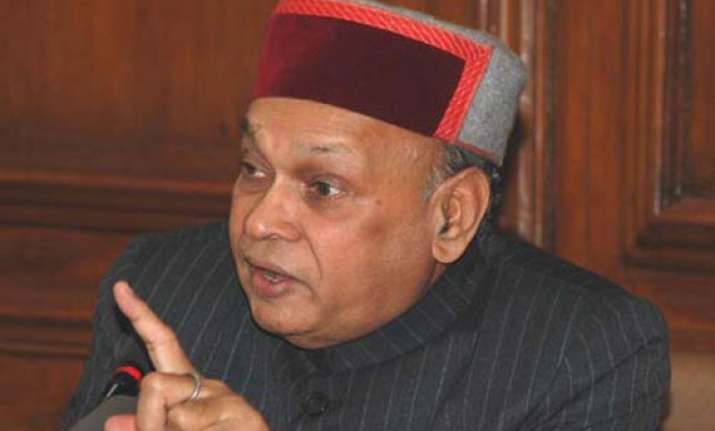 Shimla, Jul 20: Former Himachal Pradesh Chief Minister Prem Kumar Dhumal on Friday claimed that his phones are being tapped.
His allegations come amidst alleged phone tapping during the previous BJP regime in the state in which the Vigilance and Anti-corruption Bureau of Himachal Pradesh police has registered a case. 
"The phones of other BJP leaders are also being tapped and whenever I call up or receive a call on my mobile, a sound comes, indicating that the phone is being tapped by someone," Dhumal told reporters here. 
He claimed that the phones of BJP leaders were tapped in the Congress regime from 2003-2007. 
Dhumal questioned the action of the government to "illegally" seize the computers in the CID wing on the night of December 24 last year on the eve of swearing ceremony of Virbhadra Singh. 
"Under whose orders the computers in the CID wing of police were seized and the conversation tapped retrieved against law?" 
However, he hastened to add, "We don't worry as what we talk in public meetings, we speak out the same on telephone and have nothing to do or say against national interest". 
He said the move was a breach of privacy. "Who directed the Vigilance Bureau to retrieve the conversation recorded in the computers and breach the privacy which was against law? All these facts should also come under scrutiny," Dhumal said. 
He said the phones of criminals and smugglers are usually tapped and kept under vigil. To access secret conversation is also an offence, he said. Dhumal said the government was free to hold an inquiry into the alleged phone tapping to bring out the truth. 
Dhumal said the Congress government was in a state of confusion and its policies and actions are incoherent. 
"The government is raising heavy loans from day one and purchasing luxury cars for its ministers, but it is difficult to understand how the cash-starved government is affording this extravagance," he said. 
Referring to slicing of arrears of claims of the state on account of share in hydropower projects under Bhakra Beas Management Board, Dhumal said the state government must fight its case and get the dues granted by the Supreme Court. 
He said his party would fully support the state government on this issue.