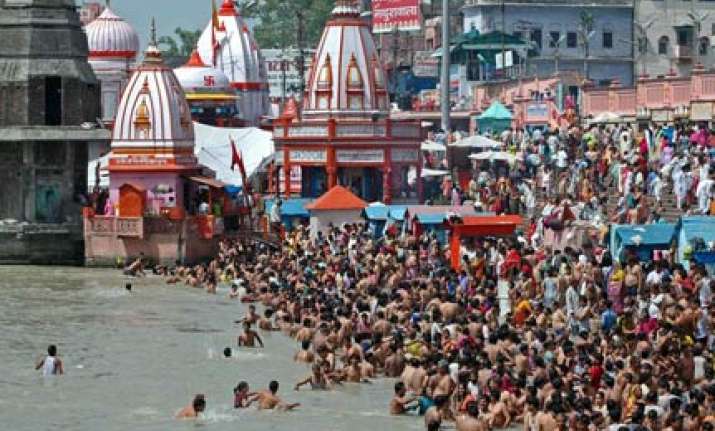 Over 15 lakh pilgrims, including sadhus and seers, on Tuesday in Haridwar took a holy dip in the Ganga on the occasion of third royal bath of the ongoing Mahakumbh. 
Sadhus and seers, belonging to 7 'Shaiv akharas' (Hindu orders)-- Juna, Niranjani, Atal, Aahwan, Anand, Mahanirvani and Agni-- were the first to take bath at Brahmkund area of Har-Ki-Pauri, the main bathing ghat, on Chaitra Purnima, which has been declared for the first time as an occasion for royal bath.
They were followed by sadhus belonging to 'Bairagi (Vaishnav) akharas' of Nirmohi Ani, Digambar Ani and Nirwani Ani, who reached the Har-Ki-Pauri in the form of a procession.
Thousands of sadhus, including Khalsa, Dakor and Ramanandacharyas attended the procession, which was led by Mahant Gyan Das, President of Akil Bhartiya Akhara Parishad.
Lakhs of devotees were seen standing on both sides of the road with folded hands braving the scorching Sun to witness the procession. PTI