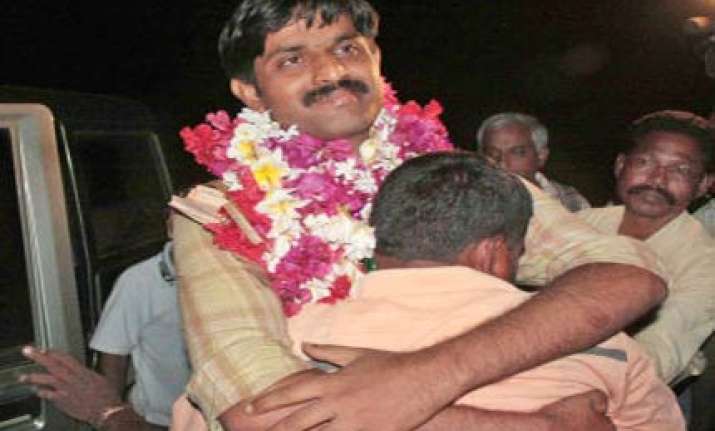 Malkangiri (Orissa), Feb 24: Affirming he was not assaulted in Maoist captivity, Malkangiri District Collector R V Krishna, released after being held hostage for nine days,tonight said he came back because of the tribals who had showered him with all the love and affection.
"There was no physical or mental torture on me or the junior engineer Pabitra Majhi when we were held captive by the Maoists," the 2005 batch IAS officer said adding his abduction was a surprise.
The 30-year-old, who was accorded a warm welcome by people from all walks of life all along the road from Chitrakonda to the district headquarters town following the
end of his nine-day captivity, said he felt indebted to the tribals for being lavished with all love and affection.
Recollecting the hours when he was taken hostage,Krishna said "after attending a public interaction camp at Badapada, I had gone to inspect a development scheme at an
interior pocket when some people surrounded me. They told me that I and Majhi were being abducted."Asserting that he was treated well by the ultras,Krishna said there was "not much" problem in the Maoist camp.
"They gave me the same food they were having," the IIT graduate-turned IAS officer recalled.The menu for lunch and dinner was mostly rice and dal,the collector said adding he was confined in a cut-off area and was shifted from one camp to another."I was thinking of development of tribal people during my nine-day stay in the capitivity," Krishna said to a question about his state of mind as a hostage. 
He felt that the abductors released him to solve problems faced by tribals in a backward district like Malkangiri, Krishna added.
While addressing tribals at the Maoists's 'People's court' where he was released in the presence of the media, Krishna referred how in the course of his 11 months as
Collector of Malkangiri, he had taken several steps for the welfare of people."I went to a cut-off area because many government officials are reluctant to go there due to the difficult terrain and inaccessibility," he said.
Krishna, who was garlanded by tribals at villages on way to Malkangiri, said many work in the remote area had been hampered as government employees were often scared of visiting Naxal-prone zone.He claimed his visit to the Maoist zone was to motivate the government officials and others. PTI