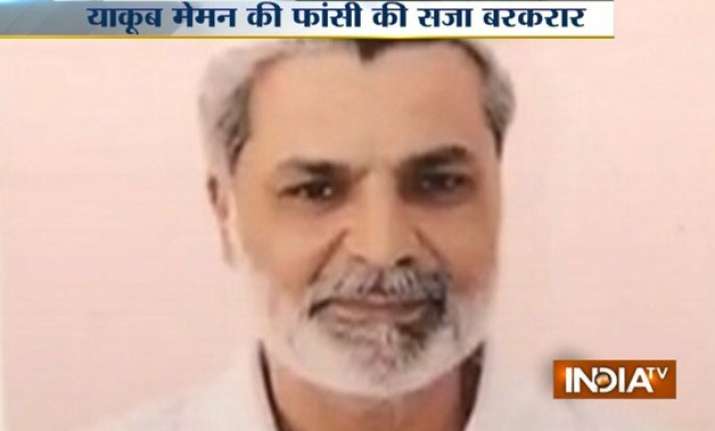 LIVE updates:
* Yakub Memon to be hanged tomorrow at 7AM in Nagpur jail
* 3-Judge Supreme Court bench dismisses Yakub's petition on death warrant. Yakub Memon will be executed tomorrow
Hyderabad: AIMIM chief Asaduddin Owaisi on Thursday contended 1993 Mumbai blasts convict Yakub Memon got a death sentence because he did not have any political backing, unlike the killers of former prime minister Rajiv Gandhi and Punjab chief minister Beant Singh.
Owaisi, who is the MP from Hyderabad, also said that if Memon is to be hanged, the perpetrators of Babri Mosque demolition should also be hanged.
* Yakub was hopeful of some kind of relief from the Supreme Court and also from his mercy petition with the President. He probably thought he would survive and will not be hanged which is why he did not prepare any will: Yakub Memon's lawyer Anil Gedam.
* President rejects Yakub Memon's mercy plea: Sources
* No new basis of Yakub Memon's new mercy petition: Home Ministry sources
* Its extremely disappointing that India is going to be on the verge of executing another person yet again: Shailesh Rai,Amnesty International
* Full justice would be done the day Govt of the day is able to bring back Tiger Memon from Pakistan: Randeep Surjewala, Congress
* President sends Yakub Memon's mercy plea to MHA, ministry to take decision soon
* SC dismissed Yakub's petition, it has been held death warrant has been legally issued: Justice (retd) Fakhruddin
* Big day for victims of 1993 Mumbai blasts,a sense of justice prevails today,victory of law in India: Sambit Patra, BJP
* Sabhi ne ek sur mein kaha hai, "Yakub ko daya nhi", ye desh ki janata ki maang hai: Sanjay Raut, Shiv Sena
* I have full faith in judiciary, I have full faith in almighty: Suleman Memon, Yakub's brother
* No execution can take place if Yakub's mercy petition is pending with President: KTS Tulsi, Senior Lawyer
* Hence state (Maharashtra) machinery can proceed further on basis of death warrant: Ujjwal Nikam, Special Public Prosecutor
* SC has clearly held that death warrant issued to Yakub is legal and valid: Ujjwal Nikam, Special Public Prosecutor
* Supreme Court upholds death sentence of Yakub Memon
* Maharashtra DGP Sanjeev Dayal also reaches Maharashtra Assembly to meet CM Devendra Fadnavis
* Mumbai Police Commissioner Rakesh Maria meets Maharashtra CM Devendra Fadnavis to asses law and order situation
* Maharashtra Governor Vidyasagar Rao also rejects mercy petition of Yakub Memon
* Yakub Memon's hanging is certain now.
* SC dismissed Yakub's 'technical argument'
* Yakub Memon exhausted all legal remedies: Ujjwal Nikam
* SC held that due process was followed in issuing him (Yakub) the death warrant: Ujjwal Nikam
* SC has today rejected petition (curative) filed by Yakub and dismissed all the contentions raised by him: Ujjwal Nikam, Special Public Prosecutor
* Supreme Court holds that Yakub's Curative Petition was rightly disposed off. Order on Death Warrant to come shortly.
SC dismisses Yakub Memon's plea against death warrant
New Delhi: The Supreme Court today refused to stay the execution slated for tomorrow of Yakub Abdul Razak Memon, the lone death row convict in 1993 Mumbai blasts case, rejecting his last ditch plea to escape the gallows.
The apex court said there was no "legal fallacy" in the issuance of death warrant by the TADA court in Mumbai on April 30 scheduling Yakub's execution for tomorrow in Nagpur, the day he turns 53.
"The issuance of death warrant is in order and we do not find any kind of legal fallacy," a bench comprising Justices Dipak Misra, Prafulla C Pant and Amitava Roy said.
"Issuance of death warrant by the TADA court of April 30 cannot be faulted," the bench said, adding "in the result, the writ petition (filed by Memon) sans merit and stands dismissed."
The bench said the dismissal of curative petition by the senior most judges of the Supreme Court was correct.
"In view of that we conclude that the curative petition decided by the three senior most judges cannot be faulted," the bench said, adding that it was not inclined to go into the issue of second mercy petition filed by Memon before the Maharashtra government after the dismissal of his curative petition on July 21.
The bench rejected the contention of Memon that all legal remedies were not exhausted including the issue of clemency, saying the President had rejected his mercy petition on April 11, 2014 which was communicated to him on May 26, 2014.
"After the first mercy petition was rejected he did not challenge it and on July 22, 2015, after rejection of his curative petition he filed the second mercy petition. However, how the second mercy petition is going to be dealt with, we are not inclined to go," the bench said.
The bench also rejected Memon's plea that death warrant was issued without hearing him and a mandatory 14 days time frame was not granted in informing him about the date of execution after the rejection of mercy petition.
The order was passed by a three-judge bench which was constituted to hear afresh Memon's plea after two judges had yesterday given a split order.
A three-judge apex court bench headed by Chief Justice had on July 21 rejected Memon's curative petition contending that the grounds raised by him for relief did not fall within principles laid down by the Supreme Court in 2002 in deciding curative pleas.
Memon had claimed he was suffering from schizophrenia since 1996 and has remained behind bars for nearly 20 years, much more than a person serving life term has to spend in jail.
He had earlier sought commutation of death penalty, contending that a convict cannot be awarded life term and the death sentence for the same offence.
The apex court had on June 2, 2014 stayed the execution of Memon and referred his plea to a Constitution Bench as to whether review petitions in death penalty cases be heard in an open court or in chambers.
The apex court had on April 9 this year dismissed Memon's petition seeking review of his death sentence which was upheld on March 21, 2013.
Memon's review petition was heard by a three-judge bench in an open court in pursuance of the Constitution Bench verdict that the practice of deciding review pleas in chambers be done away with, in cases where death penalty has been awarded.
12 coordinated blasts had rocked Bombay, as the city was then known, on March 12, 1993, leaving 257 dead and over 700 injured.