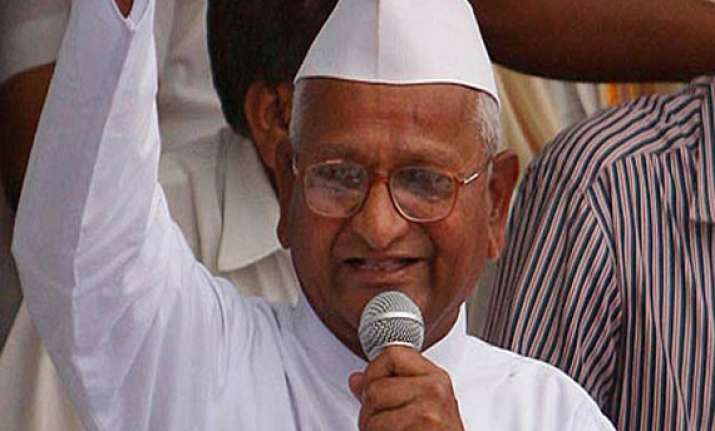 Ralegan Siddhi, Nov 25: Angry over Anna Hazare's comment over the attack on their party chief Sharad Pawar on Thursday, NCP  workers on Friday stormed the crusader's village and launched a protest.

Several party workers burnt Anna Hazare's effigy and demanded his apology. This sparked fury among the villagers who in turn launched an attack on the protesters.

Reacting to the attack on Pawar, Hazare had said on Thursday, "He (Sharad Pawar) got slapped? Only one slap?" He had clarified later and had said that violence is not the solution in a democracy. "This is not just a slap on Mr. Pawar's face, but it is a slap on democracy," Mr. Hazare had said.

Hazare addressed a Gram Sabha and appealed to the villagers not to resort to violence. "We have a long way to go. There is no place for violence in a democracy he said." Criticising NCP workers Mr Hazare said, "When farmers are killed in Maval, aren't these people angry? Why is the dissent shown only when a leader is attacked?"

NCP party workers were driven out of Ralegan Siddhi by the villagers, and several were detained by the Ahmednagar police, and released later in the day.

NCP leader and Ahmednagar Guardian Minister Babanrao Pachpute said, "The people of Ralegan got angry and attacked party workers. I request Anna Hazare to end the protests."

He also demanded that Hazare's PA Suresh Pathare be arrested as he had allegedly instigated the villagers to attack workers.

However, Ahmednagar SP Krishna Prakash stated that no crime has been registered.

"Both the parties are unwilling to register any case. We have provided adequate police protection in Ralegan Siddhi since Friday morning," Prakash said.  The situation in Ralegan Siddhi was under control, he stated.

Maharashtra Chief Minister Prithviraj Chavan criticised Hazare's remark on Pawar. "Even though he has apologised, I feel that no one should speak below his own status," Mr. Chavan said. He added that as persons in the public sphere, care should be taken.

There was a mixed response for the bandh called by the NCP in Pune. Transport was unaffected, while shops were shut for the first half of the day. Several schools remained closed, due to the fear of protests. Some parts witnessed protests by NCP workers. However, Sharad Pawar's hometown Baramati observed a bandh throughout the day.