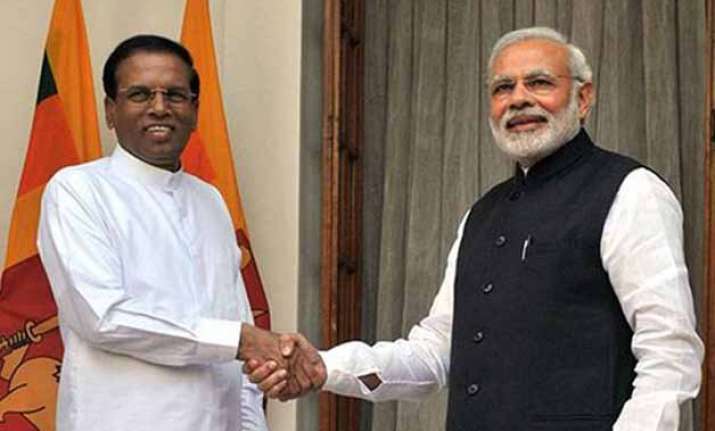 Colombo: Prime Minister Narendra Modi, who will tour Sri Lanka next week, will lay a wreath at a memorial honouring the IPKF soldiers who died in the country fighting the civil war.
Sri Lankan foreign ministry today said Modi will lay a wreath at the Indian Peace Keeping Force (IPKF) Memorial and visit the Mahabodhi Society near Colombo.  The IPKF was invited to Sri Lanka's north and east to enforce the India-Sri Lanka accord of 1987. Some 1,140 of them died fighting the civil war with the LTTE.
Modi is also expected to travel to Anuradhapura, Talaimannar and the Tamil-dominated Jaffna during his two-day visit to the nation.
Modi will be the first Indian Prime Minister and the second head of state after Britain's Premier David Cameron to visit Jaffna. Cameron visited Jaffna in November 2013.
In Jaffna, Modi will unveil a plaque at the site of the proposed India-funded Jaffna Cultural Centre and also hand over to beneficiaries houses built with Indian assistance.  In Anuradhapura, he will visit the sacred Sri Maha Bodhi, one of the most sacred relics of the Buddhists in Sri Lanka. And in Talaimannar, the Indian Prime Minister will flag off the first train signifying recommencement of the Talaimannar-Medawachchiya section of train service to Colombo, following the rehabilitation work carried out with Indian credit assistance.  
During his Sri Lanka visit, the first by an Indian Prime Minister in more than 25 years, Modi will be accorded a ceremonial welcome including a Guard of Honour and Gun Salute.  Modi will hold bilateral discussion with Sri Lanka's new President Maithripala Sirisena, while Prime Minister Ranil Wickremesinghe will host a lunch in honour of the Indian Prime Minister.
Modi will address a special sitting of the Sri Lankan Parliament.  President Sirisena will host a state banquet in honour of the visiting Indian Prime Minister.
Modi's visit comes within a month of Sirisena's India trip last month that saw the two countries sign a civil nuclear pact.
Analysts say the high-level visits is a manifestation of the keen desire of the two nations to build upon and nurture an age-old friendship to a level of extraordinary level of excellence.
The previous bilateral visit to Sri Lanka by an Indian Prime Minister was in 1987, when Rajiv Gandhi travelled to Colombo to sign the Indo-Sri Lanka Peace Accord with the then Sri Lankan President J R Jayewardene.