Follow us on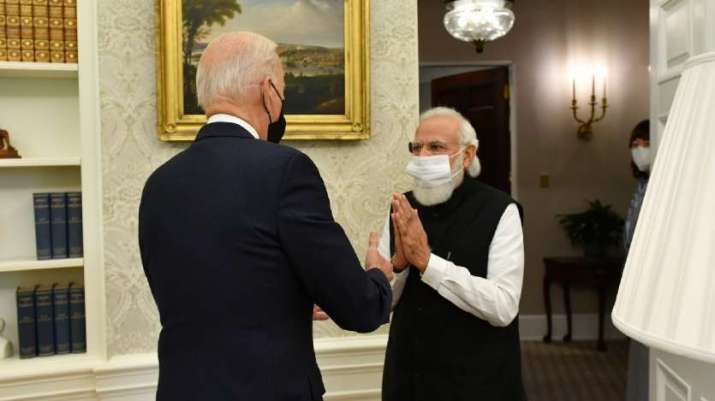 Modi-Biden Meeting: US president Joe Biden sat down with Prime Minister Narendra Modi at the Oval Office in White House on Friday (September 24). With PM Modi by his side, Biden played up ties with India — referencing Vice President Kamala Harris' Indian heritage and recalling getting a letter when he was a young senator from someone in Mumbai who shared his last name. IN PICTURES
The president also made clear he saw tightening relations with the world's biggest democracy — one that shares a neighborhood with Taliban-controlled Afghanistan and China — as vital for both sides.
HERE ARE THE TOP POINTS
I would like to thank President Joe Biden for the warm welcome. I recall our interactions in 2014 and 2016. That time you had shared your vision for ties between India and USA. I am glad to see you are working to realise this vision: PM Modi
This decade will be shaped by talent and people-to-people linkages. I am glad the Indian diaspora is making an active contribution towards USA's progress:PM Modi
President Joe Biden mentioned Gandhi Ji's Jayanti. Gandhi Ji spoke about Trusteeship, a concept which is very important for our planet in the times to come: PM
His efforts on COVID-19, mitigating climate change and the Quad are noteworthy: PM Modi
In the ongoing decade, India and US can also strengthen their trade relationship. Trade will remain a key area of cooperation between both the countries: PM Modi
Mahatma Gandhi always used to say about trusteeship of the Planet. This sentiment of trusteeship is the need of the hour globally: PM Modi
Joe Biden also highlighted India-US ties 
Today we begin a new chapter in Indo-US relationships. Four Million Indian Americans everyday making America stronger: Joe Biden
I've long believed the U.S.-India relationship can help us solve an awful lot of global challenges: President Biden 
Today, we're launching a new chapter in the history of US-India ties, taking on some of the toughest challenges we face together, starting with a shared commitment: US President Joe Biden

President Biden said he and Prime Minister Modi would talk about what more they can do to fight COVID-19, take on the climate challenge that the world face, and ensure stability in the Indo-Pacific, including with their quiet partners.
Both President Biden and Prime Minister Modi have spoken over the phone multiple times and have attended a few virtual summits, including that of the Quad in March hosted by the US president. The last telephone conversation between them took place on April 26.
Spokesperson of the Ministry of External Affairs Arindam Bagchi said that India US relationship is a partnership of trust.
"Globally we will make a difference!" he tweeted.
"Vibrant discussions between Modi and Biden. on global, regional & bilateral issues. An expansive agenda including defence, security, health, education, trade, IT, economic, Science and Technology energy and People to People ties," Bagchi said.
The Prime Minister also signed the visitor book in the Roosevelt Room of the White House. "Registering the spirit of India United States friendship in ink," the spokesperson tweeted.