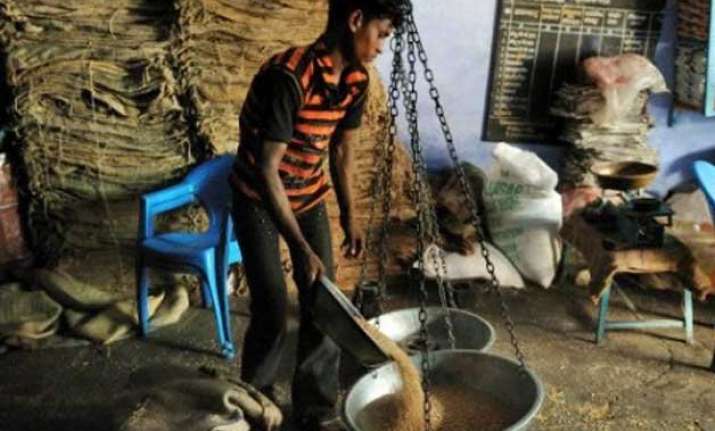 New Delhi: Prime Minister Narendra Modi government's experiment to hand out money instead of subsidised food has been buried quietly as the scheme seemed to be too impractical.
Modi government started the pilot scheme for direct cash transfer in Puducherry in February after the new bank accounts were opened under the Pradhan Mantri Jan Dhan Yojana.
The government hoped that direct cash transfers would help check corruption in the Public Distribution System. Instead of distributing food at subsidised rate, they were to be given cash so that they could buy the food at market rates. Direct transfers were thought to be more efficient than buying, transporting and distributing foodgrains.
Food Minister Ram Vilas Paswan had suggested implementing cash transfers for food on a pilot basis in Puducherry and Chandigarh. Chandigarh did not launch the scheme, but Puducherry launched the scheme on a pilot basis.
The project ran into trouble as soon as there were a few technical problems that the government could not resolve.  
The problem with the scheme was that there are fewer bank branches than ration shops and banks debited the cash for purposes other than food.
Last October, the union territory had become one of the first places in India where every household was linked to a bank account under the Pradhan Mantri Jan Dhan Yojana.
All families in Puducherry get 10 kg single-boiled rice free per month from the public distribution system. Besides this, they also get 10 kg-35 kg double-boiled rice at subsidised costs (with prices varying from Rs 3 per kg for very poor Antodaya households to Rs 7.45 per kg for those below Below the Poverty Line).
In February, the Puducherry government, led by Chief Minister N Rangaswamy of the All India NR Congress, launched a direct cash transfer of Rs 300 into the bank accounts of 3 lakh households, replacing 10 kg of rice provided free every month.
Over two months the NDA ally's government transferred Rs 18 crore. There was not any condition as the money could be used to buy food or on anything else.
But soon after the launch, the project ran into trouble as "Beneficiaries complained that the money sent to the bank accounts got auto-debited under other heads, such as the account holder's pending dues for self-help group membership, etc. and that they did not receive the cash," said P Priytarshny, director of the food and civil supplies department.
Priytarshny also points out that there "are total 400 ration price shops but only 100 bank branches. People complained they found banks more difficult to access than ration shops."
The Puducherry government has called off the pilot and restored the provision of state-sponsored 10 kg single-boiled rice.