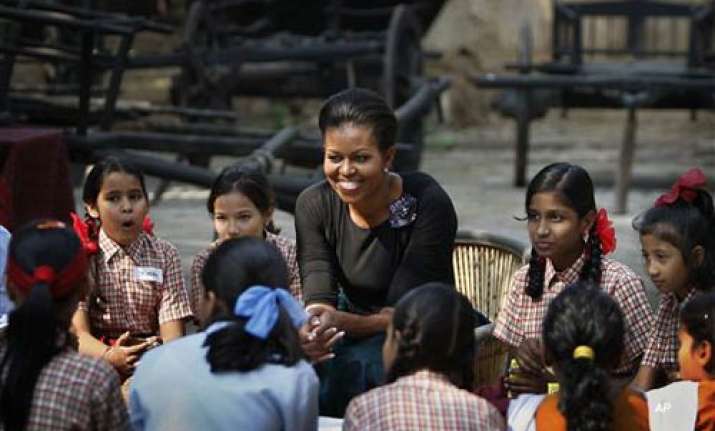 New Delhi, Nov 8 : US First Lady Michelle Obama just couldn't stop buying Indian fabrics and curios at the capitals sun-dappled crafts museum. She stopped only when she ran out of her money, reports Times of India.
At the museum on a scheduled stop of one hour, she lingered on for almost two hours, stopping only when she ran out of money after splurging an estimated Rs 80,000 on bedspreads, paintings and other items, many to give away as Christmas gifts, the report said.
Michelle  purchased four Bengal kantha bedspreads, greeting cards with Madhubani motifs from Bihar, colourful wooden key chains and Ganesha icons from Karnataka and a crochet dining table cover from Andhra Pradesh. She then picked Kutchi embroidered cloth and textiles from the Northeast. 
She also purchased 15 mobile covers, 15 rag Gujarati dolls and five yogi thailas (embroidered bags). For her daughters, Malia and Natasha, Michelle got a wooden train, spinning tops and Ganesh statues.
She was very interested in the wooden train and immediately asked us to put it aside for her children. The train is priced at Rs 600, said H Bibi Jan, a wooden work artist from Karnataka.  
Michelle also picked up cloth dolls made by a young girl from Rajasthan, small leather purses shaped like owls, frogs, teddy bears and cats. Michelle said she would have bought more if she hadnt run out of cash, those at the museum said.