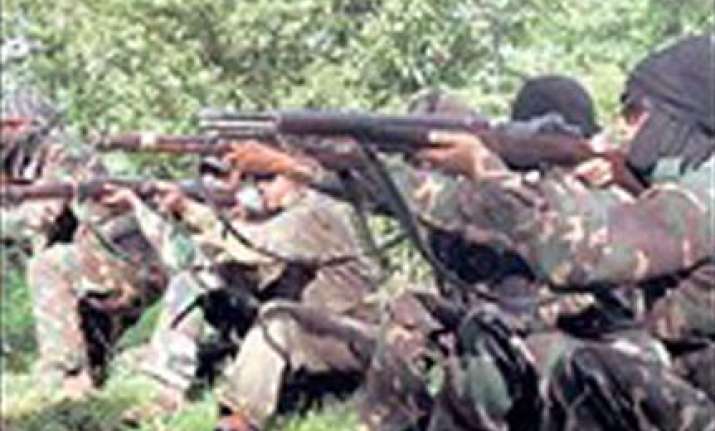 Six persons including three security personnel were killed by armed Maoists in separate incidents in Orissa, Bihar and West Bengal early Wednesday in fresh Naxal attacks.
The Maoists also blew up a government toll plaza in Gaya district in Bihar using dynamites and looted 16 weapons. They snatched Rs three lakh in cash from the plaza counters. Two persons including a security guard were killed in this attack.
The violence occured as the Maoist' 48-hour bandh in seven states to protest against the Government's operations against Naxals drew to a close.
Police said three security personnel were killed and six injured, four of them critically, in a fierce encounter with Maoists in Gajapati district in Orissa early today.
 Acting on a tip-off about movement of ultras, a team of security personnel including the elite anti-naxal Special Operation Group (SOG) and state police had launched a combing operation in Ambajari forest in the wee hours.
In the exchange of fire, three SOG jawans were killed and six others injured, police said adding that four jawans were shifted to Vishakhapatnam as their condition was stated to be critical.
 The dead were identified as Sanjeet K Tirkey, Balram Pradhan and Deepak Sonbhoy, while casualty from the Maoist side, if any, was yet to be ascertained, police said.
 In another incident in nearby Malkangiri district, Maoists blew up a pump house and control room near the pipeline of a private industrial house meant for movement of minerals in Chitrakonda area.
Police said about 50 armed ultras raided the area in the early hours and triggered an explosion after overpowering and assaulting the guards present at the site.
 In Bihar, Maoists killed two persons, including a private security guard and snatched 16 weapons at a government toll plaza at Mahapur in Gaya district.
DIG (Magadh range) Anupama Nilekar said over 200 heavily armed Maoists arrived at the toll plaza spraying bullets and hurling bombs killing one of the guards identified as Wakil Singh.
The attackers also shot dead a truck driver identified as Krishna Kant and injured some personnel in charge of security at the toll plaza.
The Naxalites looted 16 weapons, including one rifle, 12 double barrel guns and three regular guns from the security guards of the private Magadh Security Force, besides over 100 rounds of ammunition from the guards deployed at the plaza.
The ultras used dynamites to blow up the office of the toll plaza before leaving the spot besides taking away five computers, damaging 12 computers and destroying papers.
The Maoists looted cash worth around Rs three lakh from the toll plaza, Nilekar said, adding both sides exchanged hundreds of rounds during the encounter.
 In West Bengal, Maoists killed a CPI(M) activist, after abducting him from home in West Midnapore district. The incident occured a day after a local committee secretary of the party was gunned down.
Police said Basir Khan, a CPI(M) supporter, was forcibly taken away from his Jaynagar home under Jhargram sub-division by armed ultras last evening.
His bullet-riddled body was recovered from the area today. PTI