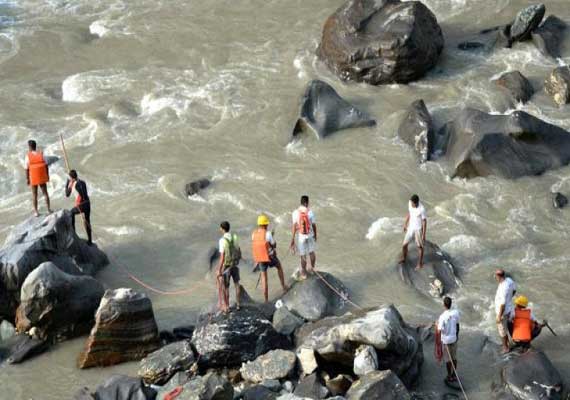 Mandi: Three more bodies were recovered from Beas river on Thursday twelve days after 25 persons, including 24 students from a Hyderabad engineering college, were swept away in the river.
The three deceased students were identified as Shiva Prakash Varma, Ashish Mantha and Machrala Akhil, Deputy Commissioner Devesh Kumar said.
With the recovery of these three bodies, the total number of bodies recovered so far has risen to twelve while thirteen more bodies including three girls and a co-tour Prahlad, are yet to be recovered.
Search operations to locate bodies of the remaining 12 of the 24 students and a tour operator will continue, Kumar added.
Massive search operations, aided by advanced technology, were launched to locate 24 BTech students of VNR Vignana Jyothi Institute of Engineering and Technology, Hyderabad, and a tour leader, who were washed away in Beas river on June 8 after sudden release of water from the reservoir of the Larji hydro-power project near Thalot.
About 600 rescue personnel of NDRF, Army, Police, ITBP and 50 expert divers are engaged in the search operations along the 15-km stretch of Beas river from Thalot to Pandoh Dam.